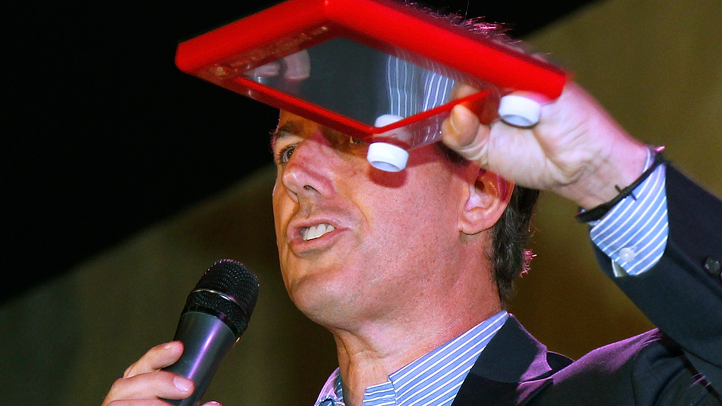 A Rick Santorum spokeswoman was handing out Etch A Sketches before a Mitt Romney town hall Wednesday in Arbutus, Md., furthering the goading of the GOP front runner after a gaffe by his campaign earlier in the day.
And it apparently worked. After the event, Romney shot back at reporters who quizzed him about it.
"I'm not doing a press conference right now, OK?" a testy Romney said, grabbing a reporter's tape recorder. He then hastily called a media avail and took one question.
First Read — DMV
A place for insight, analysis and exclusives on the people who shape politics in the District, Maryland and Virginia.
"Organizationally, a general-election campaign takes on a different profile," Romney said. "Issues I'm running on will be exactly the same."
He added, "I'm running as a conservative Republican ... I'll be running as a conservative Republican nominee."
This all started this morning on CNN. When Romney aide Eric Fehrnstrom was asked if the campaign was worried about moving too far to the right during a primary, he responded that he was not.
"Well, I think you hit a reset button for the fall campaign," Fehrnstrom said. "Everything changes. It's almost like an Etch A Sketch. You can kind of shake it up and we start all over again."
What followed, on a day when Romney was supposed to be celebrating his victory -- and his 43rd wedding anniversary, by the way -- was a firestorm from political opponents that lit up Twitter and saw rival Republican candidates appearing on stage with the iconic toy.
Democrats pounced from the outset, with the Democratic National Committee launching a web video and EtchASketchMittRomney.com -- created by Matt Ortega, a Democratic operative at New Partners, a D.C. firm with lots of key staffers from President Barack Obama's 2008 campaign.
Rick Santorum's campaign Tweeted a picture of the candidate reading over an Etch A Sketch in a car and that Santorum was "studying up on @MittRomney policy positions."
Then, Newt Gingrich took it a step further, showing up at an event in Louisiana with an actual Etch A Sketch. Then Santorum did the same.
Romney isn't getting any benefit of the doubt, even from his GOP rivals. It is potentially damaging to Romney because it plays into a narrative that he will switch positions to win.
Aside from Democrats and rivals, the Etch A Sketch people are pretty pleased about being in the national dialogue today.
"Happy to see Etch A Sketch, an American classic toy, is DRAWING attention with political candidates as a cultural icon and important piece of our society," said Nicole Gresh, spokeswoman for Ohio Arts, the company that manufactures the toy. "A profound toy, highly recognized and loved by all, is now SHAKING up the national debate. Nothing is as quintessentially American as Etch A Sketch and a good old fashion political debate.
"We are pleased with the added attention being drawn to Etch A Sketch which is truly one of the most recognizable, iconic and fun toys ever developed. As one of the most classic toys of all time, Etch A Sketch has always sold particularly well with today's consumer. It is too early to tell, but we are hopeful to see if there is an uptake in sales given this recent exposure."

---
Domenico Montanaro is NBC News' Deputy Political Editor and an NBC News First Read analyst. Read the national edition of First Read featuring Chuck Todd, Mark Murray and Domenico on msnbc.com.