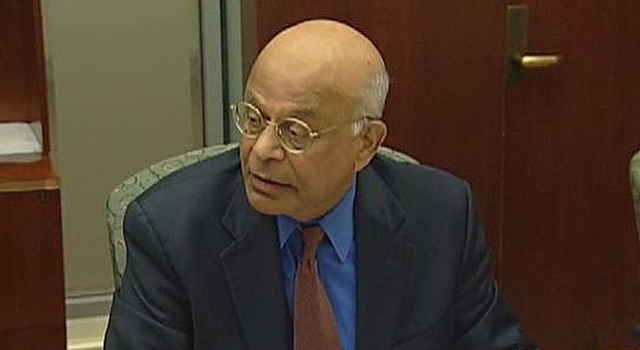 Add the D.C. Council to the list of those investigating whether laws were broken in awarding the city's current lottery contract.

An explosive hearing Thursday featured a lack of answers from Chief Financial Officer Dr. Nat Gandhi and an impassioned statement from Council member Jim Graham.

"Dr. Gandhi, have you personally or members of your staff been contacted by the Federal Bureau of Investigation or the U.S. Attorney's Office or any sitting grand jury related to the lottery contract?" Council member David Catania asked.

"We're unable to comment at this time given the pendency of the litigation," Gandhi's lawyer David Tseng replied, and he gave similar responses more than a dozen times.

Gandhi refused to answer questions about the firing of his former chief procurement officer and changes made to a report that was highly critical of a council member.

Council member Jack Evans, head of the D.C. Council's Finance and Revenue Committee, appeared to grow exasperated.

"My concern is your inability to answer the questions," he said.

Evans said he may use his committee's subpoena power to compel Gandhi and his staff to testify.

"At some point, somebody's going to explain, because we will have to go to a judge and get a ruling, and get somebody compelled to answer that," he added.

In a dramatically charged moment, Ward One Council member Graham, whose actions regarding the lottery contract have also drawn scrutiny, asked to make a statement.

"I am so disturbed over all this loose talk, and if somebody thinks that I broke a law, if somebody thinks I had an illegal financial interest, let them stand up and say it!" he said. "And I have had it with this."

Graham denied having a hand in changes made to an internal affairs report on the contract -- changes that seemed to cast the council member's actions in a more favorable light.