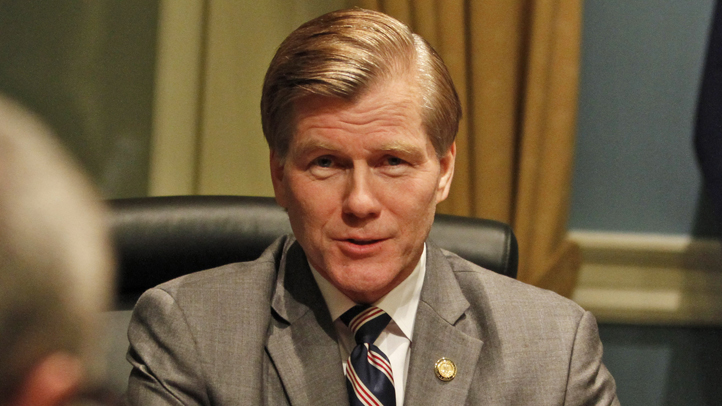 Virginia Gov. Bob McDonnell refinanced his private residence and restructured loans on other properties as he repays a businessman and donor who showered him and his family with gifts.
Court and government records reveal real estate transactions that could free up cash while McDonnell and his family return gifts and loans totaling more than $150,000 to Jonnie R. Williams Sr., the CEO of an obscure nutritional supplement maker who is the central figure in a political scandal that began to emerge in April, when the governor initiated the series of property transactions.
However, public documents do not indicate if McDonnell has spent any of the money freed up by those transactions, or whether any of it may have been used to repay Williams. Besides the repayment of the politically embarrassing loans, McDonnell faces unspecified costs for a legal and public relations team he hired as he faces federal and state investigations into his dealings with Williams.
First Read — DMV
A place for insight, analysis and exclusives on the people who shape politics in the District, Maryland and Virginia.
A spokesman hired by McDonnell to handle media relations on the scandal, Rich Galen, declined repeated requests to discuss the property transactions.
McDonnell also is receiving help from supporters who created a nonprofit corporation to accept donations for his legal defense. Virginia Beach attorneys Stanley Baldwin and Jason Miyares and Hampton Roads businessman Tom Knox said they created the fund because they felt legal fees for someone like McDonnell who has spent decades in public service -- in the Army, as a prosecutor and as an elected official – "could be ruinous." They say no payments have been made yet.
With a salary of $175,000 as governor and the primary breadwinner for a large family, McDonnell's primary assets are in real estate, with properties assessed at millions of dollars.
A complete picture of McDonnell's finances does not exist, in part because Virginia's laws are limited in what public officeholders must disclose. That makes it impossible to determine the motives behind the transactions.
However, there has been no spike in market values -- either up or down -- that would precipitate the financial activity, said Alex M. Johnson Jr., a law professor at the University of Virginia specializing in property and real estate transactions who reviewed the documents at the request of The Associated Press. Plus, the transactions occurred as interest rates began to emerge from record lows, he said.
"It is a lot of activity within a short period of time," Johnson said. "So it does look like individuals who are making these transactions are amassing cash, that's about the only thing I can say."
The gift-giving scandal has sparked calls to reform Virginia's lax financial disclosure laws and has sparked two investigations. The FBI is examining whether Williams' gifts to McDonnell came with strings attached, while a separate investigation is looking into whether McDonnell violated the state's financial disclosure law.
As for Williams, he is the target of a federal securities investigation and shareholder lawsuits.
For his part, McDonnell said Williams' largesse was not repaid with any influence, and he has denied any wrongdoing. McDonnell has said the repayments to Williams are coming from his personal assets: "I didn't want to borrow money from anybody else."
While he has not specified the personal assets he is tapping, his real estate portfolio is extensive.
It includes his partnership with his sibling in two rental properties in the Sandbridge section of Virginia Beach; an interest in an office building in the resort city; his private residence in Richmond; and a share of a property at the Wintergreen resort.
In April, the McDonnells refinanced their private residence in the Richmond suburb of Glen Allen with a $696,000 mortgage, Henrico County court records show. The home's most recent assessed value was $651,700, far less than the $835,000 the family paid for it in 2006.
In May, the McDonnells reduced their share in a $1 million property in Wintergreen, from 40 percent to 20 percent, which would have realized them about $200,000, according to Jones' analysis of the property's deed of trust.
That same month, the Virginia Beach commercial property owned by McDonnell and other partners in Racehorse Properties restructured the mortgage to make up to $728,755 available and secured by the property, which is valued at $4.65 million. It was purchased in 2004 for $3.1 million.
"It doesn't mean they've activated the loan or credit, it doesn't mean they've taken the money, but it's available," Johnson said.
McDonnell has acknowledged some financial stress related to his half interest in two beach houses, both bought as the real estate boom went to bust. The larger property sold for $1.15 million in 2005 and is now assessed at $837,000; the other property sold for $850,000 in 2006 and is now assessed at $740,000.
In an interview last month on WTOP radio in Washington, McDonnell acknowledged "cash flow" problems with the rental properties during the offseason.
Financial disclosure forms filed by McDonnell state the properties reap between $50,000 and $250,000 a year. The larger beach property, a 5,600-foot-house along a sand-swept road in Sandbridge, rents for up to $10,000 during peak weeks.
Copyright AP - Associated Press