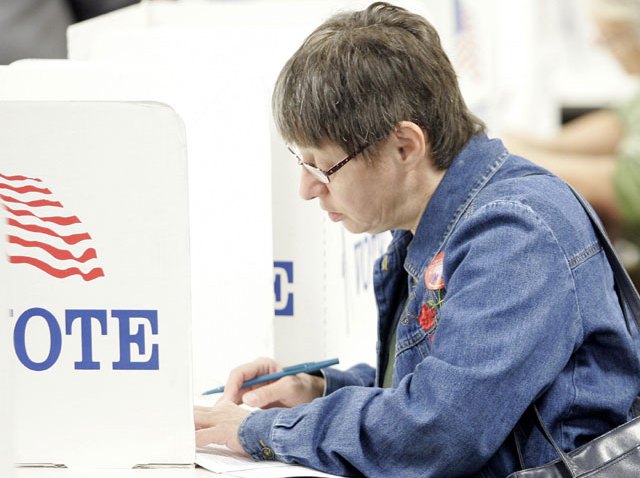 Well, this is it. The last day of the Write Fenty In campaign -- until the Write Fenty In 2014 effort kicks off tomorrow morning. The last day before Vincent Gray goes from being not-quite-mayor to… well, still not quite mayor, but officially on his way. The last day of Bob Ehrlich's comeback attempt.
Maryland Politics Watch says this morning that Gov. Martin O'Malley will win re-election by a margin of about 7.5 points, which seems about right. There aren't many competitive races in Maryland, so turnout remains iffy, but Ehrlich has faded in recent weeks and O'Malley should rack up a comfortable margin. Rockville Central says fewer than 5 percent of Montgomery County's voters cast early ballots, compared to 6.3 percent statewide.
The Washington Examiner reports both Ehrlich and O'Malley "turned their full attention to energizing voter turnout" on Monday. O'Malley "spent Monday in the voter-rich areas where he is most popular -- Baltimore and Montgomery and Prince George's counties" -- while Ehrlich and running mate Mary Kane "made five campaign stops -- three of which were in Baltimore County, a bastion of Republican support for the former governor."
Politics
Political coverage from NBC4.
Elsewhere in the DMV:
* The Washington Post reports that the D.C. Democratic State Committee, "which has largely been on the sidelines in the battle for control of Congress, sent out an 'urgent' appeal late Sunday night seeking volunteers who can travel to Virginia" to aid embattled freshman Rep. Gerry Connolly in the 11th District. Jill Biden, the wife of the vice president and an educator at Northern Virginia Community College, stopped by Connolly headquarters Monday morning to rally the troops.
* ARLnow reports on nasty allegations in Virginia's Eighth District, where Rep. Jim Moran's campaign says a volunteer for his rival Patrick Murray angrily confronted the incumbent Democrat at the Huntington Metro station Monday morning, while the Murray campaign says their volunteer saw "Moran and his son go 'ballistic' and direct a 'profane tirade'" at him. Murray, who faces a steep challenge today, has been campaigning hard across the district in the final hours.
* Greater Greater Washington backs Connolly in his Virginia race, calling challenger Keith Fimian "an ideologue who would put national Republican battles above the interests of Fairfax County, even to the detriment of the D.C. region." GGW also backs D.C. school board candidates Patrick Mara and Monica Warren-Jones.
* Virginia Attorney General Ken Cuccinelli has issued two late opinions that could impact today's elections. He writes that neither federal nor state law requires that election officials be posted outside polling places to assist voters with physical needs, though state law does require that official bring ballots to such voters in their vehicles upon request. On a less likely scenario, Cuccinelli wrote that if election officials become aware that someone who cast an absentee ballot died before Election Day, the vote should be discarded, but that officials need not undertake an onerous effort to find such votes if it's too challenging.
* The Post's Mike DeBonis reports D.C. Board of Elections and Ethics chief Rokey Suleman, his mind on complaints about the slowness of returns after the September primary, said initial returns from the District "should be released by 9:30 p.m., with tallies updated at approximately 30-minute intervals until a final count is completed sometime before midnight."
* DeBonis also reports on "an interesting flier" Ward 1 residents received last week, in which fairly unknown school board member Dotti Love Wade, who faces Mara today, endorses well-known Councilmember Jim Graham. "The flier, of course, is meant to help Wade more than it is to help Graham," DeBonis writes.
* The Washington Examiner reports Arlington County Board member Chris Zimmerman "insists he's taking nothing for granted in his run for another four-year term" despite a likely win today over Republican Mark Kelly and Green Party candidate Kevin Chisholm. Kelly "has taken the fact that all five current board members are Democrats and turned it into the main issue of his campaign. In a recent television ad running on local cable channels, Kelly promises to bring a new perspective to a board that he says has lost touch with Arlington residents with its group-think mentality."
* Advisory Neighborhood Commission races in the District are being unusually hard-fought this year, with paid signs posted in competitive races for a gig that doesn't pay anything nor have much actual power. Washington City Paper reports that Ivan Frishberg, running in a three-way race in ANC 6B02, is even putting out robocalls as "a way 'to show people that I'm serious about being more engaged and accessible as a commissioner.'"
* One of the competitive issues on today's D.C. ballot is the question of whether the attorney general should be elected. It's been a low-profile campaign, but as the Post reports, both sides have stepped up their arguments in the final stretch.
* DCentric's Anna John recounts a conversation with a Sierra Leonean cab driver about D.C.'s election: "To tell you the truth, most cabdrivers didn't like the mayor. No one in my house voted for him, anyway. I think Vince Gray is a more respectful guy. Fenty became arrogant after he became mayor. He changed completely, doesn't listen to anyone, does what he wants to do."
* D.C. independent mayoral candidate Carlos Allen's sole campaign ad aired 20 times on area basic cable channels Monday evening. In addition to obvious channels like BET, Allen oddly chose to run the spot during Fox News Channel's evening lineup of "Hannity" and "The O'Reilly Factor" as well. We'll see how that worked out for him tonight.
* If you have a pile of leftover Halloween candy, and your waistline is already grumbling at you about upcoming Thanksgiving and Christmas season feasts, you can donate some of your stash to our nation's deployed troops. All Life is Local tells you how.
Follow P.J. Orvetti on Twitter at @PJOinDC