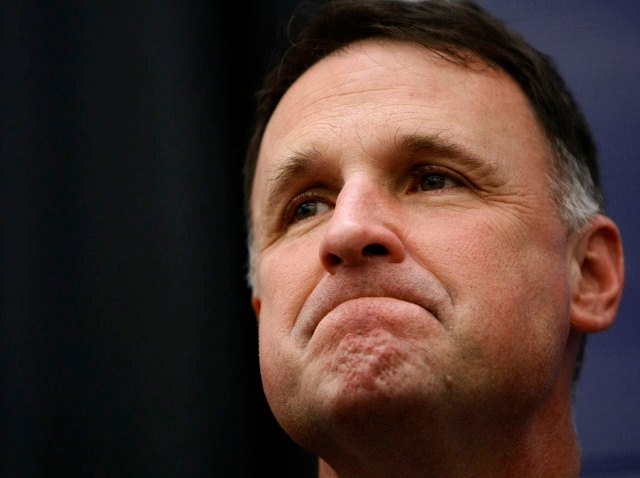 There was no lack of momentum for Creigh Deeds heading into the start of his campaign for Virginia governor.
Fresh off a rare Democratic win in the Commonwealth by Barack Obama in the presidential election, and with favorable outgoing Gov. Tim Kaine paving the way in the state, Deeds was in a strong position to retain the Democrats' lock on Virginia.
But a funny thing happened on the way to his victory speech.
Politics
Political coverage from NBC4.
Deeds couldn't build on that momentum in his race against Republican Bob McDonnell. In fact, his apparent lack of leadership and vision (and the inability to separate himself from a simple tax question) gave Republicans the opening they needed, and they took full advantage, riding McDonnell to a landslide victory Tuesday night, ending the Dems' eight-year hold on the governor's mansion.
How bad was it for Deeds? Not even a who's who of Democratic powerhouses could save him.
Just look at the star-studded list of talent Democrats brought in to try to upright Deeds' sinking ship. There were Virginia stalwarts Sen. Mark Warner, Sen. Jim Webb and Terry McAuliffe. There was former Vice President Al Gore. There was former President Bill Clinton. There was current Vice President Joe Biden. And there was even the big cheese himself, President Obama.
Throw in the usual election-clinching endorsement from the Washington Post, and one has to wonder just how Deeds let this thing fall apart.
There was his lack of details when it came to a transportation plan. There was the Virginia two-step he did around the issue of raising taxes to pay for his mysterious plan. There was his inability to capitalize on an old thesis McDonnell wrote that allegedly showed his strong conservative views. And then there was his own verbal gaffe, in which he called a female reporter a "young lady." Never were two little words repeated as much as those were in the history of television in the Washington region.
So where does the Democratic party go from here? Is this the sign of even more defeats down the road as the Republican red slowly creeps up into northern Virginia? Or was Deeds just done from the start?
No doubt the Dems will characterize this as a bad candidate who did little to save himself in this highly contested race.
With all of the star power that backed a loser, there's really no other way to spin it.
Deeds was done. Consider it spun.
Associated Press Exit Polling Highlights
INDEPENDENTS: About a third of Virginia voters considered themselves independents, and they voted nearly 2-1 in favor of Republican Bob McDonnell for governor.
OBAMA FACTOR: Virginians were split on how they thought Obama was doing in his first year as president. While the majority of voters said Obama was not a factor in their vote, about a quarter of voters said their vote was to express opposition to Obama. About one in 10 voters who supported Obama in 2008 said they voted for McDonnell.
ECONOMY: About eight in 10 voters said they were worried about the direction of the nation's economy, and the majority of those favored McDonnell. About half of Virginia voters said the economy was the issue that mattered most, and slight majority of them favored McDonnell. About a quarter of voters said health care was more important, and the majority favored Democrat R. Creigh Deeds.
TRANSPORTATION: About one in 10 voters said transportation was the most important issue and they favored Deeds by about 2-1.
MCDONNELL'S STRENGTHS: McDonnell did best among men, evangelical Christians, those over 30, those without a college degree and those in rural and most suburban areas.
DEEDS' STRENGTHS: Deeds did best among voters under 30, black voters, working women, those with advanced degrees and those in the Washington, D.C. suburbs.
The exit poll of 2,053 Virginia voters was conducted for AP by Edison Research in a random sample of 40 precincts statewide.
Results were subject to sampling error of plus or minus 3 percentage points, higher for subgroups.