Cheers could be heard in Washington, D.C., after Joe Biden was projected to have defeated President Donald Trump.
A sea of people poured into Black Lives Matter Plaza just north of the White House. People popped bottles of champagne, banged on pots and pans, waved flags and cried out with happiness.
Some chanted: "Na na na na. Na na na na. Hey hey hey. Goodbye." One man yelled, "He's gone!"
We're making it easier for you to find stories that matter with our new newsletter — The 4Front. Sign up here and get news that is important for you to your inbox.
"We love Kamala. I mean, it's a proud moment to have an HBCU graduate representing this nation ... and a woman, and an African-American woman," a Howard University alumna said. Vice President-elect Kamala Harris is a 1986 Howard graduate.
Some roads in the area around the White House are closed for the crowds.
People of all ages and walks of life came out to demonstrate. Most were wearing face masks, News4's Mark Segraves reported.
"This is the day that the Lord has made," an elated reverend in the crowd told News4.
Photos: Biden Fans Take to Streets of DC to Celebrate
"Bye bye, Donald Trump," a woman repeated into a megaphone.
"It's good to see democracy's working. I couldn't be happier," Georgetown University student Jack Mahoney said.
Champagne sales were brisk at Rodmans grocery store on Wisconsin Avenue NW. A woman wearing a pink hat with the logo of the Alpha Kappa Alpha sorority — of which Harris is a part — smiled with a bottle of pink bubbly.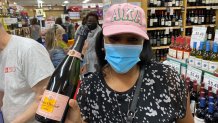 Moments after Biden was projected to have won in Pennsylvania, an eruption of music and cheers could be heard from windows and balconies in the Tenleytown and Shaw neighborhoods.
In Cleveland Park, people cheered on street corners as passing cars honked their horns. On K Street NW, drivers stuck in traffic honked their horns again and again.
Nearby in Bethesda, people shouted and banged pots and pans.
In Alexandria, whoops and shouts could be heard. One couple could be seen drinking straight from a champagne bottle, News4's Julie Carey reported.
D.C. Mayor Muriel Bowser congratulated Biden and Vice President-elect Kamala Harris.
"We could not be prouder to have President-elect Biden and Vice President-elect Harris join our city. They will not only bring dignity back to the White House, but a real commitment to the shared values we uphold and fight for every day in our city — the values embodied by Black Lives Matter Plaza leading right up to their front door," Bowser said in a statement.
Maryland Gov. Larry Hogan said on Twitter, "Congratulations to President-elect Biden. Everyone should want our president to succeed because we need our country to succeed. We have great challenges ahead of us as a country. Now more than ever, we need to come together as Americans."
Virginia Gov. Ralph Northam also congratulated Biden and Harris and said on Twitter, "It's time to come together as a nation to address our challenges and move our country forward. I am looking forward to working with you!"
NBC News projected that Biden would vanquish his Republican foe after a campaign as bitter and divisive as Trump's own presidential term. Victories in "blue wall" northern industrial states propelled Biden to the White House, where he'll confront America's deep health, economic and social ills.
A win in Pennsylvania sealed his victory Saturday morning after more than three tension-filled days of counting votes. Record numbers of Americans voted early and by mail, many out of concern about going to polling places during the coronavirus pandemic.
Stay with NBC Washington for more details on this developing story.