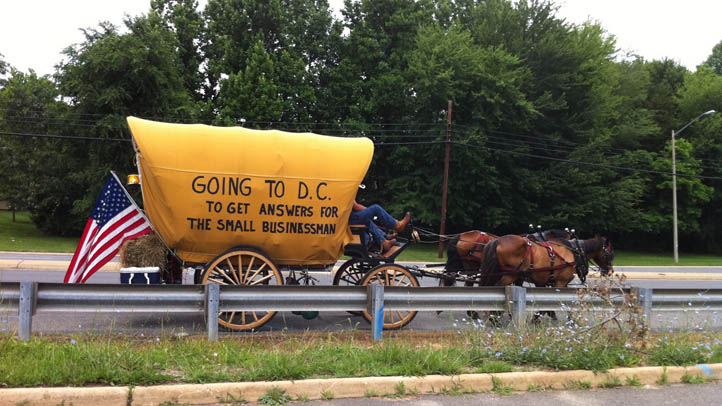 A Georgia man's covered wagon demonstration rolled through Fairfax County, Va., Monday.

Ralph Casey, 69, has spent the month of June traveling with Melissa Wilkerson on U.S. 29 to D.C. where he hopes "to get answers for the small businessman," as he states on the cover of his horse-drawn wooden wagon. At about 1:30 p.m. Monday, he was seen passing the Fairfax County Parkway overpass.

Last week, Casey, who runs a horseshoeing school in Villanow, Ga., told the Madison Eagle he wants to talk to "someone in charge" and ask five business questions that he wouldn't reveal.
Casey says he has been stunned by how his message has resounded throughout the small-town Americana he has navigated since they set out May 30. In one town, a police chief pulled him over and tried to give him a 100-pound box of food.

"The people have been phenomenal," he said.

He said he has garnered 2,000 business cards already.

But it hasn't all been easy, the Eagle reported.
Politics
Political coverage from NBC4.
"We got hit by a lady texting," four-and-a-half miles out of Jefferson City, Tenn., in front of a dealership that sells Kubota tractors, he said.

The accident warped one of his axles. The dealership employees "worked on it all day, and didn't charge a dime."

"They wrote her up," he said of the driver. "She didn't have a dime of insurance."

Follow Casey's journey on Facebook.