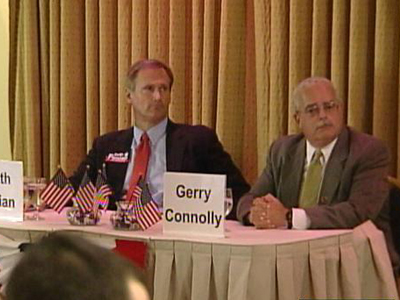 The U.S. House is turning red again. Polls and predictions indicate that the Republicans will regain control of Congress in elections 12 days from now, with a gain of about 50 seats.
But voters in the Washington suburbs wouldn't know it from the campaigns around here. Maryland Democrats Donna Edwards, Steny Hoyer, and Chris Van Hollen seem like sure bets -- Van Hollen's GOP opponent Mike Philips has recently been railing against PEPCO, which is not exactly a federal issue; Robert Broadus, the Republican challenging Edwards, brags of a sixth-grade spelling bee victory on his campaign website.
In Virginia, contests are a bit closer, but still present a challenge to Republicans. Iraq veteran Patrick Murray is making a spirited run against 10-term Democratic incumbent Jim Moran, but both the Cook Political Report and CQ Politics expect Moran to hold the seat with ease.
Politics
Political coverage from NBC4.
That leaves the 11th District, where the contest defies easy analysis.
Two years ago, when Republican Tom Davis retired, Democrat Gerry Connolly won the seat by a 12-point margin over Republican Keith Fimian. This year, the local GOP establishment got behind Fairfax County Board of Supervisors member Pat Herrity, but Fimian, going against the grain in Northern Virginia, won the nomination in an upset after tacking to the right and aligning himself with the emerging Tea Party movement.
Now, Connolly, who won in a romp over a more moderate Fimian in 2008, is on the defensive against the same rival running on an emphatically conservative platform. Fimian is against legal abortion and gay marriage, and -- unlike Davis -- opposes congressional representation for the District of Columbia. He is also passionate about cutting the federal budget.
These are standard positions for many Republican congressional candidates, but the 11th is not a standard district. One in four adult residents work for the federal government, and the economy is booming and unemployment is low precisely because the national government is so big.
Fimian told Politico in September that voters in the district can see beyond the local horizon. "The thing that I'm seeing is a great angst, even though our unemployment level is far below the national average," he said. "And the reason I believe that is because everyone knows instinctively that spending this way is inherently harmful and it cannot be sustained."
But can voters really be expected to vote against their own economic interests? Probably not. But there are enough private sector employees in the district to give Fimian a chance. And in the most recent quarter, Fimian -- boosted by Republicans who smelled victory -- raised just over $1 million, while Connolly raised just $418,000. (Still, Connolly had $1,438,000 left in the bank, to Fimian's $1,062,000.)
The Washington Post's Robert McCartney neatly summed up the race in a recent column: "Is the tea party-fueled backlash against government spending so strong this year that it will oust a Democratic congressman even in a Northern Virginia district that depends heavily on federal dollars for its livelihood?"
Election analysts still give Connolly a slight advantage. But his 12-point win in 2008 came as Barack Obama won the district by 15 points. The president is far less popular now, and sometimes coattails pull both ways.
Follow P.J. Orvetti on Twitter at @PJOinDC