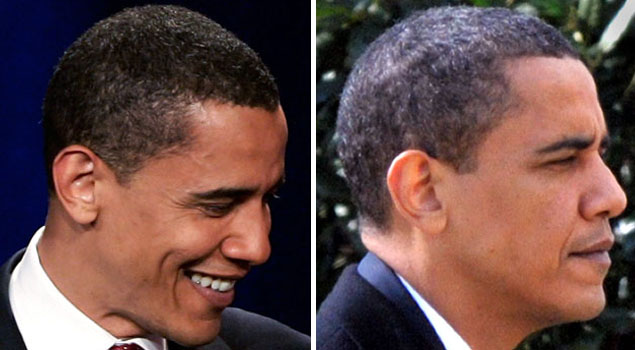 Two wars. An economy pulled from the brink of depression. A thwarted Christmas Day terror attack. Ten percent unemployment. The foreclosure crisis. A supposed super-majority that couldn't pass health care reform.
Is it any wonder President Obama shows signs of aging?
In an exclusive interview with first lady Michelle Obama, NBC Today Show host Matt Lauer noted that side-by-side pictures of the president, taken one year apart, reveal the stress the Oval Office has inflicted on her husband. Most noticeable: the president's hair is significantly grayer.

"He's cute," she objected, before disclosing the gray hasn't escaped her.

"I tease Barack all the time," the first lady said. "The gray issue is interesting because his mother, his grandfather, they were all completely gray. So he was going that direction anyway."

And well before they arrived at 1600 Pennsylvania Avenue, the Obamas knew the feel-good glow that surrounded the history-making presidential election would not last forever. They have no complaints.

"Hope and change are hard-fought things," she said. "Barack warned us about this over the course of the campaign. He talked a lot about hope, but he said that with that comes compromise and sacrifice. And it's painful and it takes time… We're sort of feeling the pain of that."

Overall, though, Mrs. Obama said her husband is up to the tasks ahead. "He is focused and clear-headed. He works very hard. And I think he's handled the pressure with that same level of grace that he came here with."
Politics
Political coverage from NBC4.
Visit msnbc.com for breaking news, world news, and news about the economy