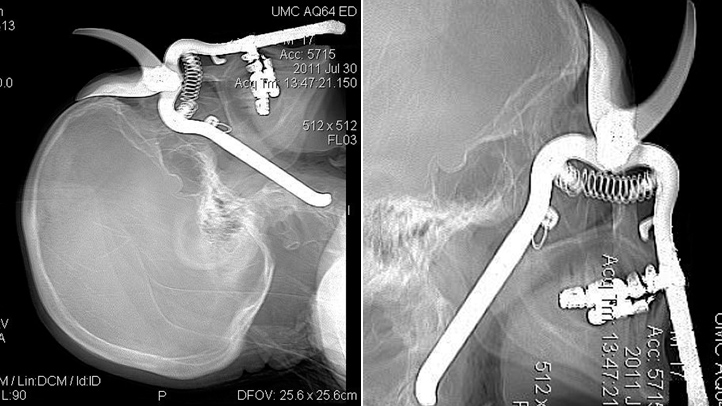 An 86-year-old Arizona man who fell face first on pruning shears, driving them through his eye socket and deep into his head, is expected to make a full recovery.
The handle of the shears went into the eye socket of Leroy Luetscher, of Green Valley, and all the way down his neck, University Medical Center spokeswoman Jo Marie Gellerman told the Arizona Star. The shears' handle stopped at his carotid artery in the July 30 accident outside his home, according to The Associated Press.
"You wouldn't believe your eyes," trauma surgeon Dr. Julie Wynne said in a statement. "Half of the pruning shears was sticking out and the other half was in his head."
U.S. & World
The day's top national and international news.
At the hospital, surgeons removed the shears and rebuilt his eye socket with metal mesh, saving his eye.
Doctors said Luetscher still had slight swelling in his eyelids and minor double vision, but had otherwise recovered.
"You just wonder how the handle of the pruning shears got there. The handle was actually resting on the external carotid artery in his neck," oculoplastic specialist Lynn Polonski added. "We are so happy that Mr. Luetscher did not lose his eye or any vital structures."
Four weeks after the incident, Luetscher, who has slight swelling and minor damage to the affected eye, said that he feels lucky to be alive.