What to Know
Jayana Tanae Webb, 21, is charged with third-degree murder, homicide by vehicle while DUI, homicide by vehicle, and other related offenses.
Police say Webb was driving on I-95 early Monday morning when she struck and killed Pennsylvania State Troopers Martin F. Mack and Branden T. Sisca, as well as 28-year-old Reyes Rivera Oliveras of Allentown.
The two Troopers were trying to help Oliveras who was walking on the highway prior to the deadly crash.
Lee la historia en español aquí.
A young woman has been arrested and charged with third-degree murder in a crash that killed two Pennsylvania state police troopers and a man who they were trying to help on Interstate 95 in South Philadelphia early Monday morning.
Jayana Tanae Webb, 21, of Eagleville, is charged with third-degree murder, homicide by vehicle while driving under the influence, homicide by vehicle, second-degree manslaughter of a law enforcement officer, involuntary manslaughter, recklessly endangering another person, driving under the influence and summary traffic violations, including failing to drive at a safe speed, careless driving and reckless driving.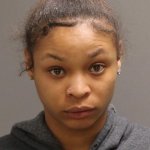 NBC10 was there as troopers escorted Webb out of the state police barracks on Tuesday and transferred her to Philadelphia police headquarters. She was wearing the same handcuffs that were carried by the state troopers who died in the crash.
U.S. & World
The day's top national and international news.
A judge denied Webb bail at a Tuesday night arraignment. Webb will remain jailed ahead of her next court hearing, which was expected to take place April 5.
During the hearing, the Philadelphia District Attorney's office said Webb gave a post-Miranda Rights statement to officers that she had been drinking "strawberry Henny" -- referring to Hennessy Cognac -- prior to the crash.
Webb's lawyer Michael Walker argued that his client was very young, a first-time offender and posed no danger to the public. Walker said there was no need for Webb to remain jailed while awaiting trial, which he said could take one to three years.
"Number one she's not a flight risk," Walker told NBC10. "Number two, she's not a danger to society and there are things that you can put in place to protect society if you believe she's a danger to society like put her on an electronic cuff. Make her sit in house arrest."
However, the judge sided with the District Attorney's Office, based on the seriousness of the charges. "I do see that there is a public safety issue here," the judge said.
Webb sat hunched over in her chair during Tuesday's hearing. She cried quietly when the judge denied bail, but was not showing much emotion before that.
Walker said "there should never be a rush to judgment." He called the charges against Webb "allegations" that need to be presented in court under oath.
"This wasn't an intentional act," Walker said. "We're not talking about a capital case here. We're not talking about a murder one case. We're talking about potentially an accident that happened. That people were involved in a confluence of unfortunate events that culminated into this horrific accident."
Walker also told NBC10 he may try to overturn the judge's decision to deny Webb bail by filing a motion to have her released before trial.
"She was extremely saddened and you've got to recognize that her 22nd birthday is next month," Walker said. "And this is a person who's not a violent person and certainly cares about people very deeply. And it's unfortunate that this may be the worst thing she's ever done or been accused of and it may color the rest of her life. The rest of her life for some mistake she may have made on her 22nd birthday."
The deadly crash occurred Monday around 12:40 a.m. in the southbound lanes of I-95 near Lincoln Financial Field, state police said. Sources told NBC10 Pennsylvania State Troopers Martin F. Mack III, 33, and Branden T. Sisca, 29, had just pulled over Webb when they received a call about a man who was walking on the highway. They then left Webb as they responded to the man.
The two troopers spotted 28-year-old Reyes Rivera Oliveras walking on the highway. As they tried to get him into their vehicle, a driver, who officials identified as Webb, drove up to the scene and tried to use the shoulder of the highway to get around them.
The driver hit all three men, police said. The impact was so great that it threw the two officers and Oliveras into the northbound lanes of I-95, police said. Dispatch audio obtained by NBC10 revealed the chaotic scene moments after the crash.
"Yeah it looks like a trooper might be down, they're doing CPR on him right now," the dispatcher said.
Police said Webb remained at the scene and was later taken into custody. Her alcohol level at the time was twice the legal limit, according to police.
Debris from the crash was extensive on I-95, NBC10's Randy Gyllenhaal reported. The crash, investigation and closure caused a lengthy traffic delay on the interstate in both directions.
Pennsylvania Gov. Tom Wolf issued a statement on the death of the officers Monday, saying that he and his wife, Frances, are praying for all of the Pennsylvania State Police.
"Frances and I are deeply saddened by the tragic loss of these two state troopers and the individual they were assisting," the statement read.
"This tragedy is a reminder that our law enforcement officers put their lives on the line every day, and we Pennsylvanians are grateful for the men and women who protect us and our communities."
The Pennsylvania State Trooper's Association echoed those statements. "Trooper Martin Mack and Branden Sisca died serving the people of the Commonwealth of Pennsylvania," they said in a statement. "They are heroes, who will forever be honored by all those who take and recite the Pennsylvania State Police Call of Honor and serve as a Pennsylvania State Trooper."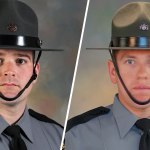 Trooper Mack enlisted for the state police in November 2014, state police said. Trooper Sisca had just enlisted in the Pennsylvania State Police in February 2021.
Both troopers spent their careers assigned to the Patrol Section of Troop K, which covers Philadelphia, state police said.
Mack was a 2006 graduate of Monsignor Bonner High school and Albright University in Reading. He was married with two children and lived in Bristol Township, Bucks County.
Sisca was a graduate of West Chester University in 2014. He had recently graduated from the State Police Academy.
Sisca also was trained as an EMT and had served with the West Chester Fire Department and Good Fellowship Ambulance Company. At the time of his death, he was fire chief for the Trappe Fire Company No. 1.
The fire company issued a statement Monday, saying it was with "great sadness and heavy hearts" that they confirmed his death.
"Right now we ask that you give his family and the family at Trappe Fire Company time to process the loss of an incredible person," the statement read.