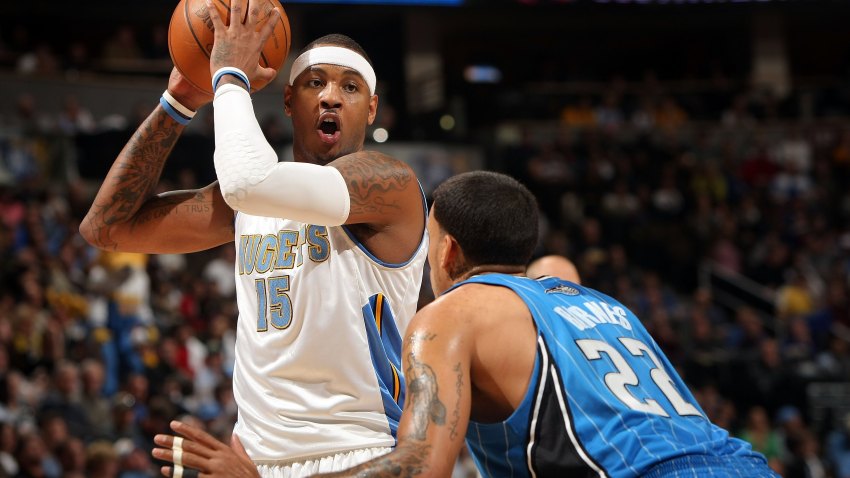 We're halfway home, and it's as if we don't have half a clue.
We have yet to see the Celtics anywhere close to healthy.
We have yet to see the Lakers, with their home-heavy schedule, anywhere close to tested (although the loss in Cleveland did offer somewhat of a clue).
U.S. & World
The day's top national and international news.
We still don't know if the Magic can make it work with Vince Carter, if the Raptors can make something out of Hedo Turkoglu, if the Spurs and Hornets can reach another level or if the Heat and Suns already have played their best ball.
Traditionally, the midpoint of the NBA schedule is when you take stock, get a read on where it all is headed.
Yet this season, it's as if the league is in somewhat of a January reset mode, almost as if teams only now are emerging from training camp.
For the Celtics, the question is whether there are any legs to the concept of the Big Three, or whether Rajon Rondo must remain the glue.
For the Cavaliers, it's now about buying time without sidelined Mo Williams.
For the Lakers it's about developing a toughness on the road that wasn't needed at home.
For the Suns, it's a new lineup. For the Heat, it's getting back to where the team stood in November.
And for Charlotte, Oklahoma City and Memphis, it's about whether those teams truly are up to the moment, the first time in a long time when their games will have meaning over the second half of the season.
Among the playoff contenders, the lone true read to this stage in the Eastern Conference comes from the Hawks, who have been healthy, have been able to integrate prime newcomer Jamal Crawford and have not blinked in their battle for one of the conference's top seeds.
In the West, Denver and Dallas aren't going anywhere, perhaps not at a level to challenge the Lakers for conference supremacy, but positioned well enough to be playing deep into May.
So where do all 30 teams stand at the season's midpoint? Here's where.
Identity established
Atlanta: Well, what do you know, the Hawks actually are playing hard and consistently for Mike Woodson. And with Joe Johnson handling his impending free agency a lot quieter than the likes of Bosh, Boozer or Stoudemire, Atlanta has been relatively free of controversy. Josh Smith is all grown up, and seemingly so are the Hawks.
Dallas: After a few early missteps, the Mavericks have established themselves as much of a threat to the Lakers as anyone in the West. While the formula still is as simple as Kidd-to-Nowitzki, the spare parts are fitting together nicely. Even a Josh Howard trade shouldn't get in the way of the chemistry.
Denver: Carmelo Anthony has lifted his game to another level, and Chauncey Billups continues to offset with his steadiness the erratic play of J.R. Smith. While Kenyon Martin's health will remain a concern, it's almost as if Denver and Dallas are setting up a play-in to see who faces the Lakers in the Western Conference finals.
Cleveland: Yes Mo Williams is gone. But LeBron isn't, nor is the size and muscle the Cavaliers can throw at the opposition. At the start of the season, there was question as to whether a clear No. 1 would emerge in the East. Cleveland has done just that.
Still searching
L.A. Lakers: While the Lakers largely have been invincible when Pau Gasol has been available, the soft schedule has left questions about the team's overall toughness. The current trip could provide a few answers, otherwise the dreaded "soft" tag could linger.
Boston: It has reached the point where one has a right to wonder whether this team ever will be completely healthy. When it is, it is as good as any in the league. But it's not only Garnett's availability, but also the knickknack injuries to Rasheed and Eddie House that raise concerns about completeness.
Orlando: Vince Carter was not very good in December and has been worse so far this month. For as much as the Magic accomplished last season, Hedo Turkoglu was a big part of the package. Unless Carter comes around, the burden could prove too weighty even for the muscle of Dwight Howard.
Toronto: Speaking of Turkoglu, could someone let him know the season has started. If he can get his game going, the Raptors, enjoying Chris Bosh's best season, could make some noise in the East. Otherwise, there remains the looming threat of moving Bosh and his expiring contract by the Feb. 18 trading deadline.
Chicago: Apparently, Vinny Del Negro still is coach. And apparently, when they're on their game, the Bulls can be fairly decent. And then there are those times when the offense is a mess. This is a team seemingly doomed to riding the Tyrus Thomas wave.
San Antonio: Oh the record is fine, and Tim Duncan hasn't looked this good in years. But Richard Jefferson has yet to truly fit in and Tony Parker now is limited by a nagging foot problem. While it never is wise to write off the Spurs, there are questions of where the ceiling now stands.
Miami: Dwyane Wade clearly needs help, and the most likely candidate to provide that help is wildly erratic second-year forward Michael Beasley. This is a team that could use a personnel jolt, with a losing record since its 6-1 start. But it also is a team looking to trim its tax bill, as well as one unwilling to touch its 2010 cap cache.
Portland: So is this one of the weeks when Andre Miller is considered an asset? And where exactly does the injured list stand? Portland stands as perhaps the league's ultimate wildcard.
Utah: So what truly matters? If it's the luxury tax, then Eric Maynor might prove to be just the first to go. If it's the future, then why continue to mess with good-as-gone Carlos Boozer? But if it's this season, then what's currently in place should be good enough for a mid-pack playoff seed.
Caught in the moment?
Oklahoma City: The goal never was the playoffs this soon. But here stands the Thunder, with as much of a right to be there as any team outside the conference's elite. Are Durant, Green and Westbrook up to the moment? Is Scott Brooks?
Memphis: Ditto with Randolph, Gay, Gasol and Mayo. And ditto with Lionel Hollins. It is one thing to move into playoff position. It is another to finish the task.
Charlotte: Larry Brown has a way of getting the most out of his players. He also has a tendency to grate. Through the season's first half, the Bobcats have been a revelation. But can a team built around so many erratic talents maintain a level of consistency?
New Orleans: Where is this headed? Is it headed to a middling playoff seed? Is it headed to reducing the luxury-tax burden? Or is it headed to getting this thing right before Chris Paul has the opportunity to walk?
Headed South
Washington: Two words: Gilbert Arenas. Enough said.
Phoenix: The hot start has turned into the benching of Jason Richardson and Channing Frye. How much more can the Suns ask of Steve Nash? And now Amare is talking about his future, which is never a good thing.
Milwaukee: Brandon Jennings could drive 55 only for so long. Then Michael Redd went down and it all seemed to get to Scott Skiles. Oh well, they'll always have November.
Houston: You can do only so much with the shortest starting center and shortest starting point guard in the league. Oh, Rick Adelman certainly could keep the Rockets afloat, but the Western Conference schedule figures to eventually wear them down.
L.A. Clippers: There was a moment when it appeared to be coming together, then Blake Griffin's entire rookie season was put on hold and it's as if the air was sucked from the team's spirit.
Sacramento: Only a month ago, the Kings were up there with Memphis and Oklahoma City as the Western Conference's next wave. Then reality hit home. And, no, the return of Kevin Martin is not the answer.
Does it matter?
New York: The tease is constant. But when you're counting on Nate Robinson and his expiring contract to lead the revival, what does that truly say?
Philadelphia: Eddie Jordan as savior? Perhaps we should have seen this coming.
Detroit: Ben Gordon and Charlie Villanueva as saviors? Perhaps we also should have seen this coming.
Minnesota: Ricky Rubio arrives when? And, no Kurt, you can't go back to the Lakers.
Golden State: It was promising early and then Nellie got his hands on it and it all turned to… Well, you know the Nellie story by now.
Indiana: Will this be Larry Bird's legacy?
New Jersey: Brook Lopez deserves better. So do the rodents in the swamp.
Copyright MSNBC - MSNBC