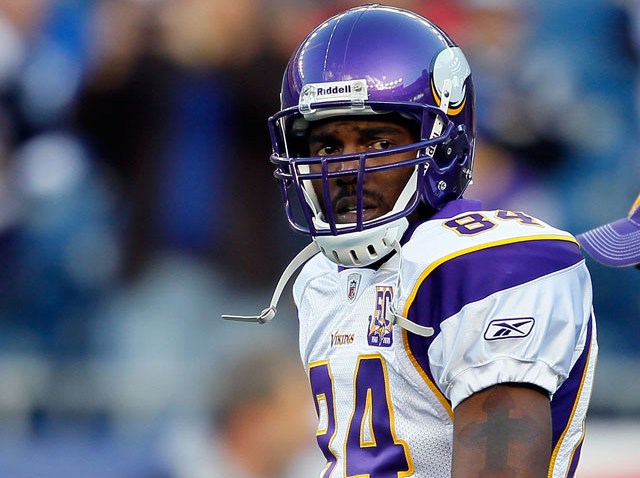 Of all the insane things to happen during the 2010 NFL season, perhaps the craziest thing of all has been the instant self-immolation of Randy Moss.
Just a year ago, Moss had nearly 1,300 yards receiving and 13 TDs. He now has a grand total of five catches for Tennessee and the Titans don't appear to have any desire to get him more involved in their offense.
Moss has always been a malcontent. But he has never been an afterthought. Until now, that is.

Moss began this year angling for a new contract with the Patriots. It was that intense desire to get paid that led to his eventual ouster in New England and his bizarre one-month loan to the Vikings. Tennessee was the only team to make a waiver claim for Moss after he was cut by Minnesota, and now the question isn't if Moss will get that one last fat contract he always wanted (he won't), but if ANY team will bother signing him.

The one thing that made Moss a valuable commodity was his breathtaking talent. But now that New England has thrived with him gone, and now that he's failed to make any difference in either of his new pit stops, that talent has become all but worthless on the open market. No team is going to sign Moss for anything other than one year at the league minimum.
U.S. & World
The day's top national and international news.
Would any team be dumb enough to give him a shot? Well, this is the NFL. There are always teams dumb enough to take a shot, and here they are:

Miami (6/1): Secretly, the Dolphins have been the most agonizing team to watch play in 2010. They're spiritually a 4-12 team, and their options on offense are comically limited. Even the recent reemergence of Brandon Marshall from a shallow grave isn't going to erase this team's urgent need for playmakers.

Denver (8/1): I like Denver as a possibility because no one there knows what the hell is going on, so it seems inevitable that Moss would be signed without anyone actually taking credit for it. I bet Moss could even show up to team headquarters one day saying he signed with them and have Pat Bowlen believe it.

Seattle/San Francisco (10/1): Because the NFC West makes a perfect halfway house for Moss on his way to the UFL and/or Spike's "Pros Vs. Joes".

Dallas/Washington (20/1): There's only so much longer the Skins and Cowboys can hold out, right? Where you see a wasted signing, Dan Snyder sees VALUE!

Atlanta (30/1): A winning team that could bring Moss into camp and then cut him if they feel like he isn't worth the effort. I think a smart team would hire Moss strictly to run go routes from the slot on third downs and return kicks, instead of making him an every down wideout.

Green Bay (30/1): Same as above. Also, the more years go by that they blow a chance to get to the Super Bowl, the more desperate they'll become.

Baltimore (32/1): Because any mouthy player falls right into line when Ray Lewis threatens to stab them.

New York Jets (40/1): Why not? They collect moody wideouts like Hummel figurines.

New England (100/1): This is where Moss would really like to go, but there's no way Bill Belichick will let him back without some sort of ritual humiliation. Fifty whacks to the fanny for you, Marshall Boy!

Oakland/Minnesota (10,000/1): Okay, there's no prayer of either of these happening. But if they did, how long until you stopped laughing? Weeks, right?