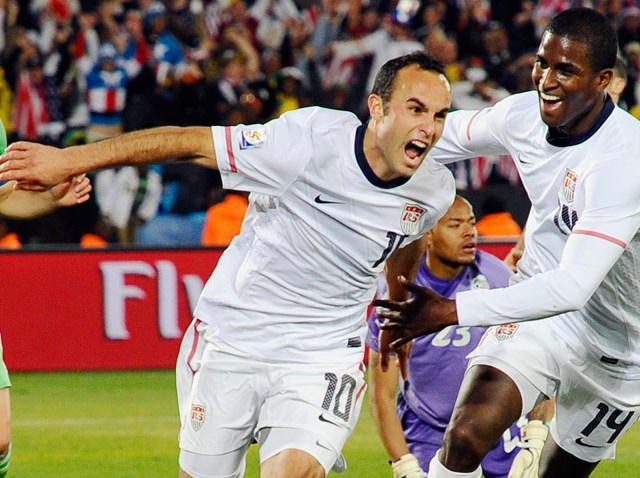 Welcome to Watch List, where we identify five things on TV to watch while you stay at home and avoid seeing that new Tom Cruise movie that looks exactly like the last 700 Tom Cruise movies. LET'S GO!

USA VS. GHANA – 2:00PM EDT Saturday (ABC) After their miracle win against Algeria, the US enters the elimination portion of the World Cup tournament with a game against the same nation that booted them from this competition back in 2006. A couple of things you need to know about Ghana. It is located in West Africa. The word "Ghana" means Warrior King. But whatever. That doesn't scare us, fellas. Ghana also gave us the major soccer tease that was Freddy Adu. It is also one of the world's top producers of gold, which means that, if we beat them, we get to plunder one of their many coastline gold caves. And they have oil!

So that's what we're up against on Saturday. You, casual soccer fan at best, are hereby ordered to tune in to show your patriotic fervor. We shall vanquish these Ghanians, then take over the WORLD, using only our feet. ANTICIPATION: A CERTAIN TIE LEADING TO A SHOOTOUT!

ENTOURAGE – 10:30PM Sunday (HBO) It's the seventh season premiere, and even the ads for it make me want to punch someone in the face. I was someone who genuinely enjoyed "Entourage" at the beginning of its run. (Except for Vince. Vince I always hated.) Now, I've joined the massive wave of anti-support for this show. Maybe you haven't. Maybe you still wear your hat sideways. I won't begrudge you. As far as you know. ANTICIPATION: BROS ICING BROS!

DINOCROC VS. SUPERGATOR – 9:00PM Saturday (SyFy – an NBC/Universal network) Another SyFy masterpiece that will be 75% more compelling if you've ingested a mind-altering substance prior to viewing. By the way, I'll put my money on Dinocroc every time. A supergator is still just a gator. But a dinocroc is like an alligator, but with DINO powers! That's gotta count for something. ANTICIPATION: CRIKEY!

TEAM COCO PRESENTS: CONAN'S WRITERS LIVE HOSTED BY ANDY RICHTER – 10:00PM Sunday (TBS) In anticipation of November, TBS gives you this comedy special that's essentially Conan's show, only minus Conan. If Triumph and Pimpbot are around to handle interview duties, I think we'll make out just fine, people. ANTICIPATION: HIGH!
BET AWARDS – 8:00PM Sunday (BET) Kanye shows up at an award show for the first time since upstaging Taylor Swift. And you can bet he'll be behaved this time around, particularly given just how heavily armed most of the attendees will be. ANTICIPATION: I'MMA LET YOU FINISH!