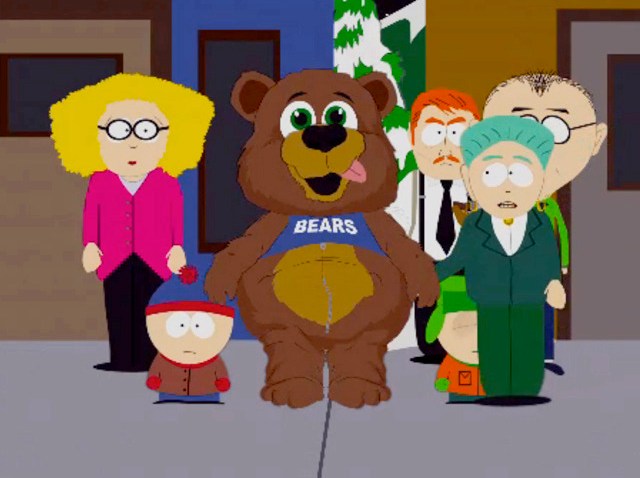 Welcome to Watch List, where we identify five things on TV to watch while you stay at home and try and make sense of the Randy Moss deal. LET'S GO!

SOUTH PARK – 10:00PM (Comedy Central) The greatest show in the history of the universe returns tonight with a NASCAR parody. This is a Cartman/Butters episode, and this show is always at its peak when it does a Cartman/Butters episode. They are perhaps the finest animated comedy team of all time. Far better than Scooby and Shaggy. ANTICIPATION: HIGH!

HARRY LOVES LISA – 10:00PM (TV Land) It's the premiere of this new reality show about former "Dancing With The Stars" star Lisa Rinna, her husband Harry Hamlin (from the old "Clash of the Titans"), her two kids, and her terrifying collagen injections. Together, the family will participate in electric activities such as emptying out the dryer lint, planning brunch, and washing the stovetop with Cerama Brite. Should be awesome. I'd be ten times more likely to watch this show if it were called Harry Loves Lisa Loves Chachi. Now THAT would make for great television. ANTICIPATION: KARDASHIANY!

MODERN FAMILY – 9:00PM (ABC) Special guest star Nathan Lane drops by to play Pepper, the flamboyant friend of Mitchell and Cameron who always throws lavish themed parties. The fact that his name is Pepper already has me giggling. I don't mind Nathan Lane when parceled out in very small doses. ANTICIPATION: COSTUMES!

106 AND PARK: THE CELEBRATION, TEN YEARS LIVE!!! – 6:00PM (BET) BET's answer to TRL invites numerous VIPs and BFFs in for their anniversary, which is a BFD. Nelly takes time out from playing your local state fair to come on, and Ne-Yo also drops by. Watch closely and maybe a beef will break out, just for old time's sake. ANTICIPATION: BEEFY!

STEVEN SEAGAL: LAWMAN – 10:00PM (A&E) It's the season premiere of A&E's reality show featuring the has-been action star. Tonight, Steven takes everyone out for Japanese food. You know, this guy is the Donna Chang of washed up Hollywood action heroes. YOU'RE NOT ASIAN, STEVEN. ANTICIPATION: OMIKASE!