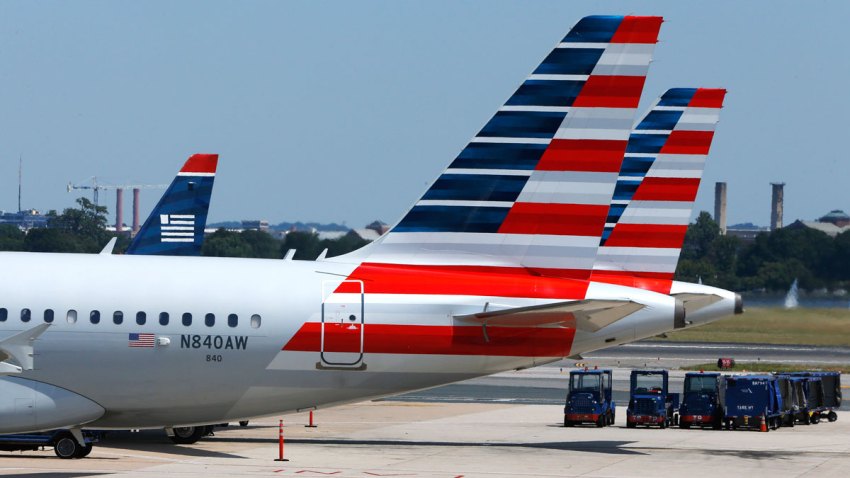 Nearly two years after announcing a merger, American Airlines and US Airways will begin operating as a single airline Saturday.
The final US Airways flight has begun its roundtrip journey between Philadelphia and San Francisco.
Flight 1939, named for the airline's founding year, departed Philadelphia International Airport at 10:36 a.m. Friday. The Airbus A321 will make scheduled stops in Charlotte, North Carolina, Phoenix and San Francisco before returning as a red-eye flight back to Philadelphia on Saturday.
U.S. & World
The day's top national and international news.
US Airways' website will go away after midnight Saturday, and all future flights will fly under the American Airlines banner, following the completion of a merger announced in 2013. Passengers trying to book tickets through US Airways will be redirected to AA.com instead.
US Airways was formed in Pittsburgh as All American Aviation and later operated as Allegheny Airlines before becoming US Airways.
American Airlines officials said they don't forsee any issues but recommend passengers give themselves extra time to check in Saturday. They also plan to increase staff at airports by 20 percent.
"American picked a Saturday because it's the slowest travel day and the cheapest travel day," farecompare.com's Rick Seaney said. "Just in case something were to happen."
American Airlines has invested millions of dollars to make sure the switch goes smoothly, adding new kiosks, signs and employees.
"They've spent literally probably seven or eight months preparing for it, practicing, moving over millions of reservations from one system to another," Seaney said.
For the next year, passengers will still board some planes painted with US Airways' livery. American Airlines said it will take until the end of 2016 to have all the planes repainted in American's design.
Copyright AP - Associated Press