U.S. Department of Homeland Security officials monitoring the Paris terror attacks said there is no known, credible threat against the United States. Still, major U.S. cities have bolstered security in the wake of the attack that killed 129 people and wounded at least 352, including Americans, in the French capital.
New York City police officers were deployed to various parts of the Manhattan, including French government buildings, NBC New York reported. Heavily-armed officers stood outside of the French Consulate in Manhattan as passers-by brought flowers.
Massachusetts State Police said they're increasing security around the area of the State House and monitoring intelligence at Logan International Airport in Boston.
In the nation's capital, police sent extra officers to the French Embassy and other high-profile locations around the District "out of an abundance of caution," the Metropolitan Police Department said in a news release Friday night.
Police in Los Angeles were stepping up patrols at a half dozen events, including separate Justin Bieber and Snoop Dogg concerts over the weekend, according to NBC Los Angeles. San Francisco police were also on "high alert," officials said.
Law enforcement has also mobilized in Miami.
Meanwhile, the U.S. Embassy in Paris worked overnight Friday to account for the welfare of U.S. citizens known to be in the French capital when the deadly series of shootings and explosions hit. The attacks included carnage at an American band's concert where most of the victims were slain.
U.S. & World
The day's top national and international news.
Americans are among the injured and are being offered "the full range of consular assistance," a State Department spokesman confirmed on Saturday.
"The United States Embassy in Paris is working round the clock to assist American citizens affected by this tragedy," Deputy Spokesperson Mark Toner said. "The U.S. government is working closely with French authorities to identify American victims."
The embassy has been telling U.S. citizens who want to check on loved ones to call 888-407-4747 or, if overseas, 202-501-4444 for assistance.
President Barack Obama convened a meeting of his National Security Council Saturday to review the latest intelligence surrounding the attacks in Paris before departing for the G20 Summit in Turkey, the White House said.
Facebook enabled its "safety check" feature, offering users a way to verify that friends and family were safe. The tool was initially launched in 2014 to assist communities during natural disasters. Friday's attacks appeared to be the first time the social media site used safety check for a terrorist attack.
While French President Francois Hollande said he was closing the country's borders, officials later clarified that only border checks were being re-imposed. Most flights from the U.S. to France did not appear to have been grounded Friday night.
Air France said in a statement that its upcoming flights in and out of France were being maintained after the attacks. Charles de Gaulle International Airport was open, according to American Airlines.
A spokesperson for American Airlines told NBC News Friday night that all flights to Paris would continue as scheduled, with the exception of one from Dallas, after a representative had previously said the airline was "holding (its) remaining departures this evening to Paris."
All Delta Airlines flights scheduled to fly to Paris had departed as of midnight ET, according to a company statement. Some passengers "decided not to travel to Paris," causing delays on three flights due to passenger baggage removal, the company said early Saturday.
The Federal Aviation Administration said in a statement to NBC News on Friday evening that the agency is "prepared to act quickly in the event action is warranted" but "at this time, there are no changes in air traffic operations."
Hollande declared a state of emergency and mobilized the military. He vowed a "merciless" response against the perpetrators of the country's worst violence since World War II. ISIS has claimed responsibility for the carnage.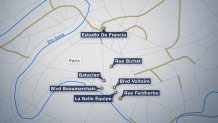 Homeland Security officials were in contact with their foreign counterparts, and President Barack Obama has been briefed by counterterrorism adviser Lisa Monaco, officials said.
Still, a national security administration official told NBC News there are "no credible or specific threats against the U.S." amid the eruption of violence in Paris.
"Obviously, we're staying looped in with our counterterrorism counterparts both here and in the region," the official added.
Obama called the violence a "heartbreaking situation" and "outrageous attempt to terrorize innocent civilians." The president vowed help bring the perpetrators to justice.
Speaking to reporters at the White House, Obama said he would not speculate about who was responsible for the "attack on all of humanity."
The violence comes as the president is preparing for two trips abroad. He's slated to leave Saturday for a nine-day trip to Turkey, the Philippines and Malaysia. He was due to travel to Paris for climate change talks at the end of the month.
NBC's Ari Mason, Asher Klein and Danielle Abreu contributed to this report.

Copyright AP - Associated Press