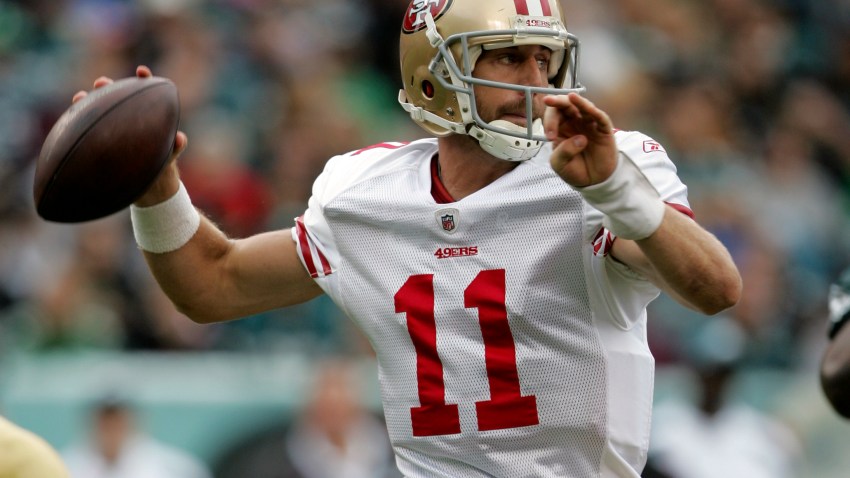 Power rankings. You hate them. They're so arbitrary and pointless, especially when they include all 32 NFL teams. All you want to know after a good week of NFL action is who the bestest team in the NFL right now, and which one is the absolute barrel-scraping worst. The one so terrible, it gave out nickels for Halloween. That's why we have TOP AND BOTTOM OF THE NFL, where we go to great lengths to tell you who's the top dog in football right now, this very minute. LET'S GO!

THE TOP: San Francisco 49ers

The Packers had the week off, so let's excuse them from the top today and give praise to Jim Harbaugh's little band of scrappity scrap scrapdogs. And if you take a look at the schedules, it's not crazy to suggest that San Francisco could end up with the No. 1 overall seed in the NFC.
The 49ers only have three winning teams left on their schedule (Giants, Ravens, Steelers). The Packers have eight. Granted, one of those eight is the Raiders, but still! The only losing team the Packers face are the improving Vikings, who nearly beat them at home in the Metrodome a week ago.
So don't be surprised if Aaron Rodgers' road back to the Super Bowl goes through Candlestick. A Packers/Niners NFC title game? Oh man, Chris Berman is rubbing his tummy with chicken carbonara just thinking about it. Ew.

THE BOTTOM: Miami Dolphins/Indianapolis Colts

Let's congratulate the St. Louis Rams from extricating themselves from this human bonfire.
U.S. & World
The day's top national and international news.
The Dolphins nearly pulled off the same feat, leaving the Colts alone and shivering in the basement. But at the last second, Miami was like, "What are we doing? We can't let Indy have Andrew Luck! Everyone would hate us!", and then they choked.
The question now is: If Miami gets the No. 1 pick, do the Colts draft a quarterback at No. 2? I mean, I know they'd probably draft Luck if they were at No. 1, but what about if they miss out? Are they still going to actively look for Peyton Manning's replacement?
Don't be surprised if Landry Jones ends up being PeyPey's replacement.