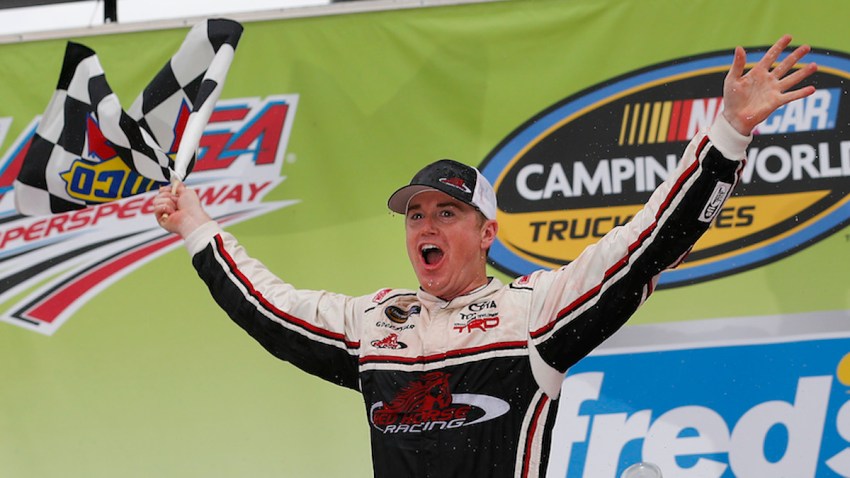 Timothy Peters won the Truck Series race at Talladega Superspeedway for the second consecutive year.
Peters was second on the final restart Saturday after a multi-truck accident caused a stoppage of 15 minutes for the track to be cleaned. Brandon Jones got a terrific jump as the leader but he pulled too far away from the line of trucks behind him in the bottom lane.
It allowed Peters, in the top lane, to catch Jones and pull past Jones for the lead. Then Spencer Gallagher tried to duck down and attempt to pass Peters, but he was hooked by John Wes Townley to bring out a race-ending caution.
U.S. & World
The day's top national and international news.
NASCAR said this week it would only make one attempt to finish both the truck race and the Sprint Cup Series race on Sunday under green, which didn't bother Peters at all.
"It was still intense, I wasn't going to celebrate until I saw the checkered flag and the truck was completely across the line," Peters said. "It was really was no different with one (green-white-checkered flag) attempt versus three. Everybody was maybe a tad more aggressive."
Peters became the third driver in series history to win consecutive races at Talladega, joining Todd Bodine (2007, 2008) and Kyle Busch (2009, 2010). The victory was Peters' first of the season and the ninth of his career.
Jones finished second and was followed by Mason Mingus, Erik Jones and Tyler Reddick.
Erik Jones, who began the day with a four-point lead in the series standings over Matt Crafton, now leads Reddick by 18 points.
Crafton, the two-time defending series champion, dropped to third in the standings after multiple issues in the race. He was also included in the late wreck and finished 24th. There are four races left this season and Crafton now trails Erik Jones by 23 points.
"They've had their problems and I've had my problems and if they have more problems, I'm not worried about it," Crafton said. "We're going to go try to win the next four and see what happens."
Brian Keselowski made his Truck Series debut driving for younger brother Brad Keselowski and had a shot at the win until he ran out of gas as the field was headed to the overtime green-white-checkered restart. He was third at the time, but had led 11 laps and was in contention for the win the entire race.
He wound up 17th.
"I'm emotional," he said. "I'm really proud of how we ran. I'm disappointed that it was probably my only chance. We'll see how it works out."
Keselowski, who had never before driven for his brother, was picked to drive at Talladega in place of injured Austin Theriault. He thought he was going to make it to victory lane in his first Truck Series race until his fuel problem.
"They said right from the get-go to save fuel, and I was," Keselowski said. "But you can only do so much when you're leading. You've got to go, so I didn't save any when I was out front. I guess I should have, but that's a little bit of inexperience in the Truck Series probably showing up. We'll learn better next time."
Copyright AP - Associated Press