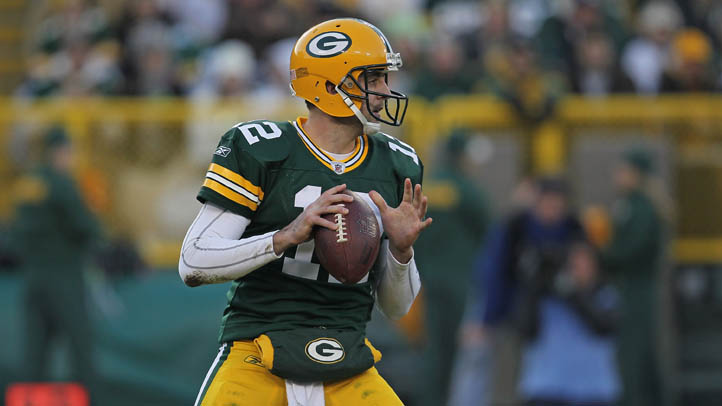 Oh hey, it's MVP voting time! Now, a lot of voters will tell you that they really thought hard about who to vote for, and that Drew Brees really made a race of it at the end. But as an unauthorized MVP voter, I don't have to con you like that. I took four seconds to decide on my MVP. It's Rodgers. And I don't care that Drew Brees broke all those records and won't have an MVP to show for it. This isn't Little League. Not everyone can get a trophy. Drew Brees will be just fine, thank you very much. And if anyone gives a vote to Peyton Manning, I will find them and slap them with a rake.

Now, on the flipside, I think the race for the league's LEAST VALUABLE PLAYER is far more compelling. After all, Santonio Holmes really made a go of it there at the end, what with all the sulking and quitting. That's the kind of thing you look for in an LVP. And don't forget Stevie Johnson, who got penalized at key moments this season when he wasn't dropping game-winning touchdown passes. It's hard to argue with that kind of non-production.

Alas, both Holmes and Johnson had the misfortune of being occasionally productive this season, so they don't qualify for LVP honors. I think there are only two real candidates for this award, and I think you know who they are: Donovan McNabb and Albert Haynesworth.

Remember when McNabb got cut by Minnesota and people actually thought a team like Houston might consider signing him? Well, to show you just how utterly disposable McNabb is, the Texans signed Jake Delhomme and Jeff Garcia instead. Garcia is 42 years old and may not even be alive anymore.

But Haynesworth had an even more damning season. Consider that the Patriots went 8-0 after releasing Haynesworth and the Bucs, who scooped him up, went 0-8 after signing him. There are so many other factors that go into that kind of stat, but I really like it because it makes Haynesworth look bad. So a big round of congratulations to our newly crowned MVP and LVP: Aaron Rodgers and Albert Haynesworth. If they played on the same team, that team would go 8-8.