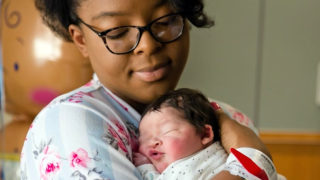 Shakia Harris and her husband, Mitchell Crite, were in good spirits when they left their son Kingston's first pediatrician appointment in 2019.
"Kingston was 4 days old and the doctor said he looked marvelous," Harris, an artist in Kentucky, tells TODAY.com. "We brought him home and he had his first bath in the kitchen sink, and we took a million photos."
Later that evening, Harris was relaxing on the couch reflecting on their "perfect" day, when Crite called out from Kingston's nursery.
"My first thought was, 'Oh! Kingston must be doing something cute and Mitchell wants me to see,'" Harris recalls. She grabbed her phone expecting to snap a photo.
We're making it easier for you to find stories that matter with our new newsletter — The 4Front. Sign up here and get news that is important for you to your inbox.
She ended up using it to call 911.
"Kingston's body was convulsing," Harris says. "My husband was holding him up in the air, and he was just shaking as if he was having a seizure."
Harris willed herself to stay calm and placed Kingston on his changing table. She observed that he was not breathing and his mouth appeared to be "glued shut."
U.S. & World
The day's top national and international news.
"His lips were turning blue and he was making this weird noise like he was trying to cry," Harris says.
Harris began performing CPR, but Kingston's jaw was clenched and his mouth still wouldn't open. When paramedics arrived, Harris remembers throwing Kingston into their arms.
"I was terrified," she says.
At the hospital, it was determined that Kingston had experienced a brief resolved unexplained event (BRUE).
A BRUE is when an infant — 12 months or younger — stops breathing or becomes unresponsive for a period of time — typically less than a minute, according to Dr. Sara Siddiqui, a pediatrician at Hassenfeld Children's Hospital at NYU Langone Medical Center. Physical symptoms can include a change in breathing, tightened or weakened muscles, and bluish discoloration of lips or mouth.
"After the episode, the infant usually has a normal examination," Siddiqui tells TODAY.com. "The cause is unknown."
Sarah Bendel, a mother of three, went viral earlier this year after she shared a TikTok video of her 6-week-old daughter, Jojo, experiencing a BRUE. The chilling footage was captured on the baby's infant monitor. 
Jojo, like Kingston, was behaving normally the day the incident took place. Then suddenly, the little girl began spitting up in her crib.
"She had turned a deep red color, and she looked stiff. I picked up and she was indeed stiff — more importantly, she wasn't making any noise. No cries. No coughing. She wasn't breathing," Bendel told Scary Mommy. She noted that JoJo has made a full recovery.
BRUE is diagnosed after other causes are ruled out, such as gastroesophageal reflux, seizure disorder, cardiac disease and neuromuscular disorder, according to Siddiqui.
"A BRUE by definition is an episode of unknown cause usually occurring one time," Siddiqui explains. "If it happens again, an underlying diagnosis must be investigated."
The National Library of Medicine data reports that 0.5 to 0.6 of healthy term infants have experienced a BRUE, but Siddiqui notes that the true prevalence is unknown. 
Babies younger than 60 days who were born premature or spent time in the neonatal intensive care unit (NICU) are at higher risk for BRUE.
"Although causes remain unknown, safe sleep practices are routinely recommended in pediatrics," Siddiqui says.
The safest spot for infant sleep is on a firm mattress without any soft bedding, bumpers or pillows. The American Academy of Pediatrics also recommends that babies stay in their parents' room at night for a full year — but they should not co-sleep, as that increases the risk of sudden infant death syndrome (SIDS).
Harris's son Kingston is now three and thriving. But Harris says she still has trauma from that scary night back in 2019.
"We couldn't go into his nursery for a long time," she says. "It felt like a crime scene."
Related video:
This story first appeared on TODAY.com. More from TODAY:
Copyright Today Digital Originals