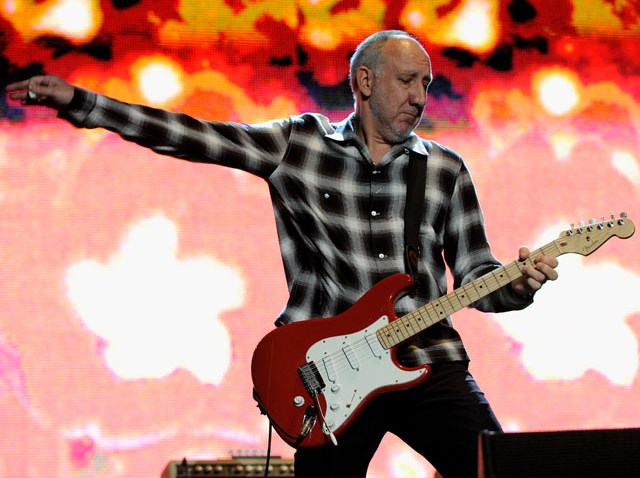 Who are you?
That was no doubt the question on the minds of both a 7-year-old girl and her father after The Who's Pete Townshend swore at the young lady during a performance of the band's rock opera, Quadrophenia, in Ontario on Feb. 19.
As seen in the above YouTube video, the legendary rocker became annoyed after seeing the girl hold up a sign that reportedly read, "Smash Your Guitar, Pete!"
U.S. & World
The day's top national and international news.
Justin Bieber won't be fined for late London show
"Go away with that sign please, just go away with it," Townshend said to them from the stage. "Don't bring your children [and] use them. I want to tell you two words, but I can't because you've got a child there."
He then seemed to mouth the words "f--k off."
Now Townshend, with the help of a local Toronto DJ, has issued a letter of apology to both father and daughter, the Toronto Sun reports.
"Apologies and condolences from my side, and very best wishes to you and your family," Townshen wrote. "I asked my friend Mike Tyler to find you so I could tell you that I am so sorry the story about us blew up the way it did, but also to tell you that I sympathize with you both, and your daughter's mother, and that I am most certainly not angry. I was not angry on stage either. I was in rock star mode, the big mouth."
Florence Welch stops concert midsong, climbs down into audience to break up fight
"I could have handled it differently," he noted. "I thought your placard was fun...I was also worried that your daughter looked a little frightened as the crowd started to follow you down the aisle. The ushers should not have let you leave your seats and walk forward. All that said, you did nothing wrong."
Townshend has reportedly made arrangements to personally meet with the father and daughter privately in April.
Copyright E! Online