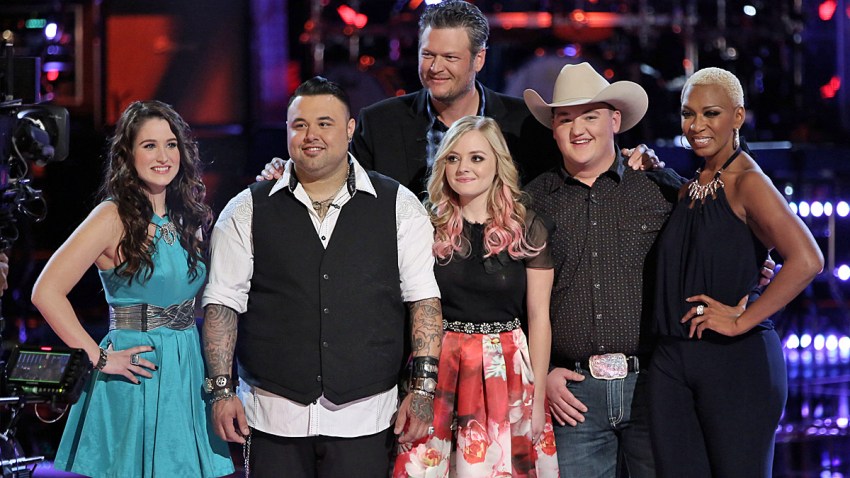 Blake Shelton whittled down his team to just three people heading into the finals on "The Voice" Monday night, and unsurprisingly, it's heavy on the country.

Joining veteran powerhouse Sisaundra Lewis on the lean team were throwback country belter (by way of Philadelphia) Audra McLaughlin and Jake Worthington, whose 17 years belied his honkytonk-ready sound and nasally Texan drawl.

That meant that Team Blake's two other erstwhile members, soulful folk-rock singer Ryan Whyte Maloney and recent young Team Usher pick-up Madilyn Paige, were heading home.

Audra earned her spot on the finals-bound team with a confident, emotionally charged take on "A Broken Wing" by Martina McBridge, a singer who's proven the young singer's consistent inspiration.

Jake earned his with a ferocious take on Jake Owen's "Anywhere With you," which he performed with his girlfriend — "the only girl who's ever treated me like a skinny guy," the imposing teen remarked — in mind.

Shakira may have been his biggest fan, not that he seemed to have any shortage of them in the audience. "I can't get technical with you, because I can't get technical with a star — and I think you're a star," Shakira told him.

Sisaundra capped the night, fittingly so, given how reliably her routine vocal fireworks could overshadow anyone who might have the misfortune of following her performances. She ramped up Billy Joel's classic ballad "New York State of Mind" with plenty of the vocal acrobatics her coach had come to expect.

But even the contestants whose performances didn't earn one of the key three slots on Team Blake earned praise from the coaches. Ryan's take on the challenging Shinedown tune "Second Chance," a song that held a lot of significance for him personally, won over Usher in particular.

Usher told Ryan that he knew of only one other male singer who could hold notes as long as Ryan could, and that singer was Adam Levine. (Adam looked duly surprised and flattered by the remark.) "This is truly a breakout moment for you," Usher told Ryan, telling him he was heading in the right direction.
Usher and his other rival coaches will get the chance next week to pare down their own teams as playoffs continue on "The Voice."
"The Voice" airs Mondays and Tuesdays at 8/7c.