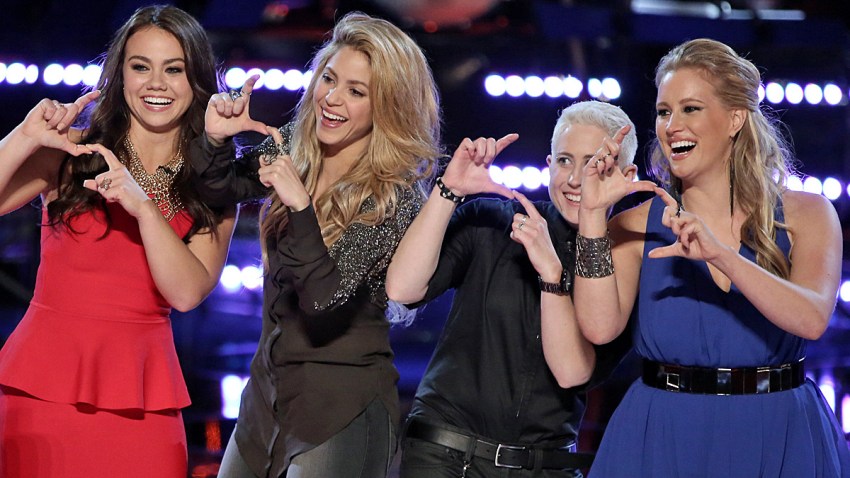 Monday night was the chance for Adam Levine and Shakira to watch their teams of five sing for the right to remain on teams of three -- and to make the grueling decision on whom to send on to the live rounds. For Adam, that meant sticking with Delvin Choice, Christina Grimmie and Kat Perkins. For Shakira, that meant Tess Boyer, Kristen Merlen and Dani Moz.
That meant that Deja Hall and Patrick Thomson were departing Team Shakira, while Jake Barker and Morgan Wallen were leaving Team Adam.
It was Shakira's task to pick her finals-bound team first, and it was her resident country singer Kristen's task to prove that she belonged on it first. The confident bleached-blonde belter knocked the Carrie Underwood hit "Two Black Cadillacs" out of the park, to the delight of all the coaches -- most of all her own, who stood up grinning to applaud before she'd finished. Blake -- unnerved by the presence of so strong a country competitor -- declared her performance "as flawless as a live performance can be, by anybody," while Usher declared her "one of the strongest voices in the entire competition."

Tess Boyer earned her spot on the leaner Team Shakira with her soaring take on Christina Perri's "Human," which she began with moody, low-register murmurs before she growled her way to the crescendo. The undeniably strong performance had the coaches quibbling over their apparent error in letting Tess -- who had been dropped by Team Usher only to be stolen by and then dropped from Team Blake -- slip away. Adam, the only coach who hadn't worked with her, called Tess' one of the season's best performances. "Forget about it, I'll see you at the end of the show," he said.
U.S. & World
The day's top national and international news.
Finally Dani secured her spot on the all-women Team Shakira with a stripped-down, piano-heavy take on the Lady Gaga hit "Edge of Glory." Dani delivered a plaintive, drama-filled take on the familiar song that sounded more like a Kurt Weill number than a dancefloor anthem -- though her over-the-top dramatic flourishes sometimes struck a sour note, after Shakira's advice that she let her guard down a bit. Usher said the performance brought him "close to tears," while Shakira admitted, "I never thought that this Gaga song was this emotional."
But while those three were heading on to the finals, two other members of Team Shakira -- Deja and Patrick -- were heading home. The coaches gave young Deja credit for tackling Jordin Sparks' "Battlefield" with a newfound confidence, though, and Usher told Patrick that his version of Ray LaMontagne's "Trouble" had finally given him a sense of what the gravelly-voiced singer was about. But it wasn't enough to redeem either.
Team Adam was heading to the chopping block next, and powerful soul singer Delvin was the first to survive it. The former Starbucks barista (and season five reject) was tackling Al Green's "Let's Stay Together," and despite the choice of an overexposed song (rule of thumb: Does YouTube video exist of the president singing it?), he imbued it with his signature rich tone and impressive vocal runs on the "Voice" stage. "There's nothing he can't do with his voice," Usher remarked, while even his own coach Adam termed his talent and growth "terrifying."

Kat Perkins, the team's resident rocker, survived it next, thanks to her reliably powerhouse take on Journey's "Open Arms," which was so strong it precluded much in the way of helpful commentary from the coaches. Usher proclaimed it "flawless" and stopped there, while Shakira praised how "emotional" and "committed" it was.
But pint-size Adam protegee Christina Grimmie, she of the pre-"Voice" YouTube fame, earned their coach's pick for the best performance of the night with her full-steam delivery of Jason Mraz's "I Won't Give Up." It earned her plaudits ranging from "the best singer on your team, right there" (courtesy of Blake) to "like baby Celine Dion or something" (courtesy of Usher, who must not listen to much Celine Dion to make that comparison). Christina's voice was huge, her performance committed and her energy electric.
Those three Team Adam members' successes came at the expense, though, of Jake, whose flourish-laden take on his own coach's song (Maroon 5's "She Will Be Loved") didn't quite live up, and of Morgan, whose solid if low-key rendition of Florida Georgia Line's "Stay" led Usher to kick himself for not having tasked Morgan (once his own team member) with country earlier in the competition.
Usher will get his chance to pare down his team Tuesday as playoffs continue on "The Voice."
"The Voice" airs Mondays and Tuesdays at 8/7c.