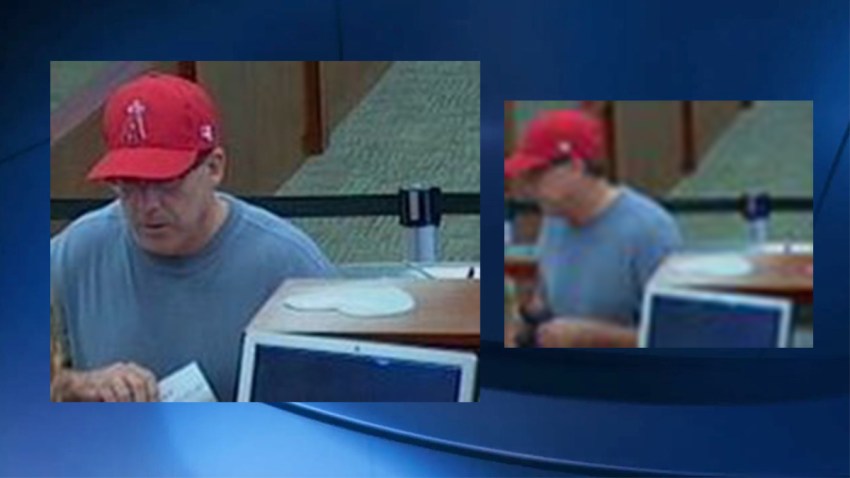 Sporting his characteristic glasses and baseball cap, the serial bank robbery dubbed as "The Hills Bandit" was again caught on camera as he continued his crime spree across San Diego and Orange counties, according to the FBI.
To date, the unknown man has been tied to nine robberies and attempted robberies in Southern California.
The last two heists were Monday. The FBI says the suspect first tried to take money from the Union Bank at 7807 Girard Avenue in La Jolla. For some reason, the attempt was unsuccessful, though investigators did not explain why.
Undaunted, The Hills Bandit traveled to Laguna Hills, where he held up a Wells Fargo Bank the same day. As in previous heists, he passed a demand note to the teller that threatened he had a weapon, but no weapon was displayed, the FBI says. This time, he escaped with cash.
U.S. & World
The day's top national and international news.
[G] San Diego Bank Bandits
Officials believe this is the same suspect whose robbery spree started in May.
Since then, he has robbed banks in San Diego, Carlsbad, Lake Forest, Laguna Niguel, and Laguna Hills.
The Hills Bandit is described as a white man between 40 and 50 years old, standing 5-foot-6 to 6-feet tall and weighing between 180 and 190 pounds.
In every robbery, he has worn a Raiders, Chargers or Titleist baseball hat, and he has been seen carrying a blue bank deposit bag. In the latest robberies, he wore a red LA Angels hat.
Witnesses told officials they saw a silver car in two of the incidents.
Agencies across the region are trying to help the FBI locate this criminal, including the San Diego and Carlsbad police departments.
If you know anything about this suspect, call the FBI San Diego at (858) 320-1800, the FBI Los Angeles at (310) 477-6565 or give an anonymous tip through CrimeStoppers at (888) 580-8477.
The FBI released new surveillance video of the suspect, which you can see below: