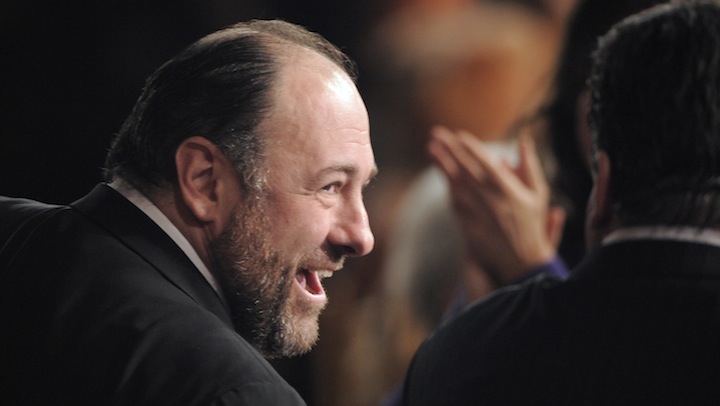 James Gandolfini's genius came in making us feel a complicated tangle of emotions toward a character it would have been far easier to simply hate. Within the course of mere moments, Gandolfini could elicit everything from fear to disgust to pity for Tony Soprano, the tormented mobster he brought to wicked life in "The Sopranos."
But the news of Gandolfini's sudden death Wednesday at age 51 provokes just one feeling: overwhelming sadness for the loss of an extraordinary actor who somehow found a recognizable, if dark vestige of humanity in a vile criminal.
Nothing, not even brilliant, nuanced mob films ranging from "The Godfather" to "Goodfellas," prepared TV audiences for the arrival of "The Sopranos" on HBO in 1999. Tony Soprano quickly emerged as the post-modern mobster – trapped by the mafia life as much as by his suburban New Jersey lifestyle. Tony, whose very survival depends on raw, primal reactions to constantly changing circumstances, is driven by panic attacks to introspection – and ultimately to a shrink.
U.S. & World
The day's top national and international news.
For all the often-shocking brutality that played out during 86 episodes over eight years, the most violent moments of "The Sopranos," at least emotionally, exploded in Dr. Melfi's office. Gandolfini could go from tears to rage, from out of control and to coldly manipulative, from being crippled by fear to frightening Melfi and those of us watching safely from home. Tony was a mobster built for Freud, between his domineering mother, conniving sister and a crazy as a fox uncle constantly plotting against him.
Thanks to Gandolfini's intense acting and superb writing led by series creator David Chase, we saw many sides of Tony Soprano. The doting dad on a college visit with his daughter could take time out to kill a mob turncoat with his bare hands. He loved his wife and kids at home, and his gangster family at the Bada Bing. Yet he killed his best friend, Big Pussy, and his nephew/surrogate son Christopher when rules of mob honor forced those meaty hands.
Much of Gandolfini's greatness rested in making moments pop to pulsing life with subtle changes of his facial expression or the tone of his voice. Even in that controversial, seemingly anti-climatic last scene of the series a half-dozen years ago, Gandolfini stirred unbearable tension in the pedestrian setting of a family dinner at a diner. Would Tony finally be whacked? Did we want him to be whacked? The tension without hope of relief amid ordinary circumstances marked an appropriate goodbye for a character forever ensnared by the banality of his evil, never able to rest for a carefree moment.
While there's now no doubt he'll be best remembered as Tony Soprano, Gandolfini possessed a quality of talent that defied being defined by one role. In parts that spanned the voice of Carol in "Where the Wild Things Are" to his recent turn as Leon Panetta in "Zero Dark Thirty," he showed the range and potential to become the Robert DeNiro of his generation. But his time, sadly, ended far too soon.
The Writers Guild of America recently named "The Sopranos" the best-written TV show of all time. You also could argue that it was the best-acted television drama of them all, thanks largely to James Gandolfini, the man who exposed for us all the tortured soul of a cold-blooded mobster.
Hester is founding director of the award-winning, multi-media NYCity News Service at the City University of New York Graduate School of Journalism. He is the former City Editor of the New York Daily News, where he started as a reporter in 1992. Follow him on Twitter.
Copyright FREEL - NBC Local Media