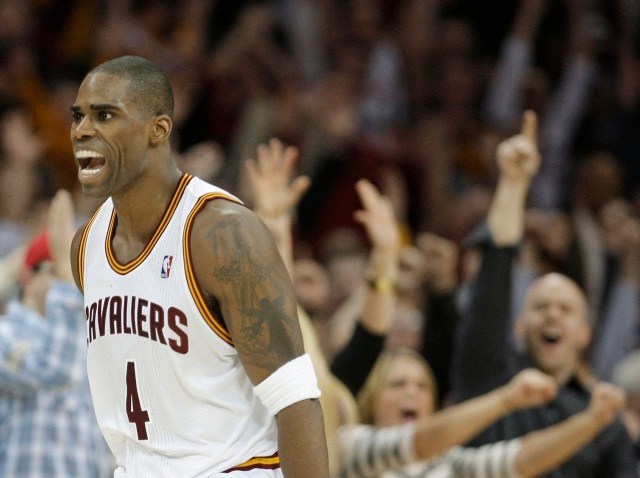 It's over. Finally. Barely.
Nearly two months after it started innocently, the Cleveland Cavaliers stopped their NBA-record losing streak at 26 games Friday night with a 126-119 win in overtime against the Los Angeles Clippers, who did all they could to extend the Cavs' misery.
Cleveland won for the first time since Dec. 18 against the New York Knicks, and had to go an extra five minutes to ensure it didn't set a record for the longest skid in pro sports history. The Cavs will gladly settle with tying the NFL's Tampa Bay Buccaneers for the worst streak among the four major sports.
U.S. & World
The day's top national and international news.
It's one they didn't want to own, and they played like it.
Antawn Jamison scored 35 points and made the game's biggest basket, a 3-pointer with 22 seconds left in OT for the Cavs. Daniel Gibson scored 10 in overtime and J.J. Hickson, playing like a man possessed all night in a matchup with Blake Griffin, added 27 points and 14 rebounds.
The Clippers quickly cut a six-point deficit to 120-119 on Randy Foye's 3 with 44 seconds to go. But Jamison responded by popping outside and draining his 3 from the left wing to revive the hopes of Cleveland fans, whose emotions went up and down all night.
After Foye's 3 rattled in and out with 14 seconds remaining, Gibson was fouled and Clippers guard Baron Davis was ejected for arguing. Gibson made a technical and dropped two more free throws to put the Cavs up by seven. When Los Angeles misfired on its last trip, Cavs forward Jamario Moon grabbed the loose ball and held it high as the clock ticked off the precious last seconds.
It was only the second victory for Cleveland in the past 38 games.
As the final horn sounded, wine-and-gold streamers that had been sitting high above Quicken Loans Arena since a week before Christmas tumbled from the ceiling and soon fans were belting out the lyrics to "Cleveland Rocks."
Griffin had 32 points and 13 rebounds, Davis scored 26 and Foye had 23 for the Clippers.
The Cavs were energized by the return of Mo Williams, who had 17 points and 14 assists in his first game in nearly a month.
Hickson, who had seven blocks, swatted away Davis' layup at the horn to end a frenetic, first 48 minutes and the teams went to overtime tied at 110. The Clippers wanted goaltending on the play, but it appeared Hickson tapped away the ball just as it reached its peak.
A whistle there would have been loss No. 27 - and the cruelest one yet.
But this was the Cavs' night, a rare highlight in a nightmarish season that's a long way from being over.
Griffin damaged four padded courtside seats while diving for a loose ball in the opening seconds of the third quarter. Fortunately, the seats were unoccupied when the muscular 6-foot-10, 250-pound Griffin went flying headfirst after the ball. Otherwise, somebody would have been hurt.
When the unsuspecting fans came back with their beverages, they had to temporarily move until the seats were pulled and replaced.
Following a loss to Detroit on Wednesday, a "mad as hell" Cavs coach Byron Scott blasted his players for their overall lack of energy amid a streak taking on a life of its own. He was amazed that they wouldn't be ready to play and challenged their pride.
With the crowd buzzing in anticipation of Griffin's first solo flight to the rim, the Cavaliers started strong before the Clippers reeled off seven straight points to take a 23-15 lead. Griffin got free on a leak out for a vicious slam that brought oohs and ahhs from Cleveland's fans.
But Williams, who said before the game he's feeling better than he has all season, came in and sparked the Cavs.
And before leaving the court after the game, he hugged several teammates who had waited for what seemed like forever to celebrate a win.
Notes: The Clippers will travel 6,510 miles on their eight-game, 14-day trip. ... Like any NBA fan, Scott loves Griffin's game. "The guy is unbelievable," Scott said. "I've watched the Clippers play, and I would never watch the Clippers play. But I watch them and 99 percent of that is because of Blake Griffin. He's what you call a true power forward. No doubt about that." ... Williams was sad to see Utah coach Jerry Sloan resign following a reported clash with star guard Deron Williams. "Jerry should get all the credit he deserves for all the things he's done, all the players who came through, including myself," said the Cavs guard, who was drafted by Utah. "I have nothing but great memories of that organization, especially Jerry Sloan. I wish him the best."