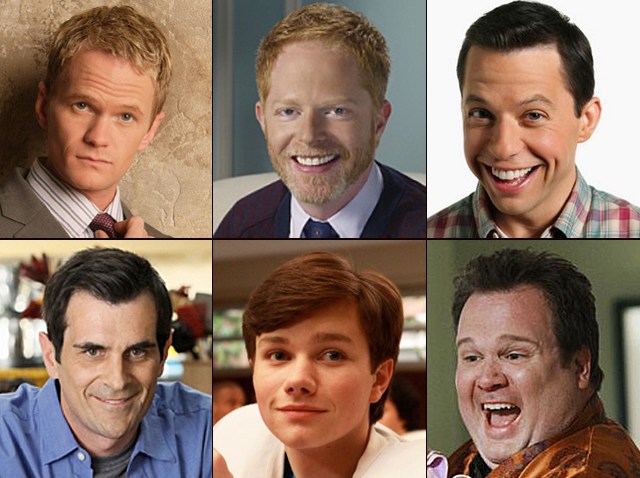 In the weeks leading up to the Emmys on Aug. 29, PopcornBiz will be sizing up the nominees in the 10 biggest categories. Warning: Using our picks to wager could leave you broke and incarcerated.

Jon Cryer as Alan Harper on "Two And A Half Men"
This is the fifth nomination for the defending champion, but there's just too much fresh talent in the field for him to keep his crown. Odds of winning 12-to-1
Jesse Tyler Ferguson as Mitchell Pritchett on "Modern Family"
Hats off to the casting directing for spotting Ferguson on "The Class," which was clearly beneath his -- and Lizzy Caplan's -- talents. But as good as he is playing buttoned-down Micthcell, the poor man has to do most of his work standing next to Eric Stonestreet. Odds of winning 10-to-1
U.S. & World
The day's top national and international news.
Neil Patrick Harris as Barney Stinson on "How I Met Your Mother"
Everybody loves NPH and with good reason, as the man is living proof that an openly gay actor can play a credible hetero horn dog. He's lost this race the last three years in a row, and with the shine wearing off of HIMYM, he's probably missed his window of opportunity. Odds of winning 8-to-1
Chris Colfer as Kurt Hummel on "Glee"
Arguably the most demanding role among the nominees, Hummel maintains a brave face as a gay teen trying to survive the cruel vagaries of high school, and he can sing. The strike against him is that he's not doing a lot of comedy. Odds of winning 4-to-1
Ty Burrell as Phil Dunphy on "Modern Family"
Burrell's work lacks Stonestreet's range -- it's not his fault, it's the character, but Burrell does a fresh and nuanced take on the classic sitcom dad doofus. Odds of winning 7-to-2
Eric Stonestreet as Cameron Tucker on "Modern Family"
Stonestreet's work on this show is a string of bravura performances, as he stops just short of having his character collapse into a caricature. Whether he's fretting over his daughter or talking football with his father-in-law, Stonestreet shows the fearlessness and commitment that are essential to great comedy. Odds of winning 7-to-3