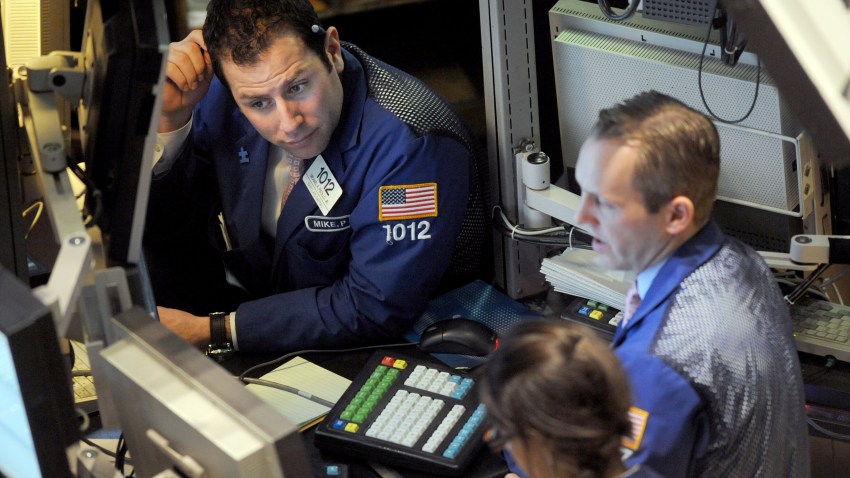 Investors fixated on the faltering economy brushed off the type of merger news that normally starts rallies.

Wall Street closed down more than 1 percent Monday as uneasiness about the economy eclipsed a bounce in troubled financial stocks and news of a big drug company merger. Stocks rose in the early going but eventually turned lower in a now familiar pattern where short-lived bursts of optimism give way to concerns about the country's economic woes.

Financial stocks rose on a news report that Bank of America Corp. could raise capital in the private sector. Shares of major banks have been pummeled to multiyear lows amid growing concern that they don't have enough cash to cover future losses despite multiple government rescues.

"Any bank right now that can raise money in the private sector, that is a major positive for the market," said Quincy Krosby, chief investment strategist at The Hartford. "It's another way to raise capital rather than the government infusing capital into the banks."

But remarks from billionaire investor Warren Buffett added to an overall downbeat mood. He said during an appearance on CNBC that the economy had "fallen off a cliff" over the past six months. He noted that consumers have changed their habits in remarkable ways.

Investors even wrote off rare dealmaking as moves borne more of necessity than opportunity as drugmakers Merck and Schering-Plough announced plans to combine in a $41 billion deal.

"Any type of news we get, the market is just skeptical," said Jon Biele, head of capital markets at Cowen & Co. "There is nothing in the near term that is going to ratchet us to a different higher level."

According to preliminary calculations, the Dow Jones industrial average fell 79.89, or 1.2 percent, to 6,547.05.

The Standard & Poor's 500 index fell 6.85, or 1 percent, to 676.53, while the Nasdaq composite index fell 25.21, or 2 percent, to 1,268.64.

The Russell 2000 index of smaller companies fell 7.79, or 2.2 percent, to 343.26.

About five stocks rose for every two that fell on the New York Stock Exchange, where volume came to 1.56 billion shares.

Both the Dow and the S&P 500 have fallen more than 25 percent this year. The Dow is at its lowest level since the spring of 1997, and the S&P 500 is at its lowest point since the fall of 1996.

The Nasdaq, meanwhile, is at a six-year low.

"There is really not very much for the market to sink its teeth into," said Steve Sachs, director of trading at Rockville, Md.-based Rydex Investments.

Investors were unimpressed with Merck & Co.'s offer for Schering-Plough. Merck has offered Schering-Plough shareholders $10.50 in cash and just over half of one Merck share for each of their shares. The price represents a 34 percent premium to Schering-Plough's closing stock price on Friday. A combination between the two companies had long been speculated.

Merck dropped $1.75, or 7.7 percent, to $20.99, while Schering-Plough rose $2.50, or 14.2 percent, to $20.13.

Genentech rose $1.77, or 2 percent, to $92.63 after The Wall Street Journal reported the company is close to striking a deal for a $95-per-share sale to Switzerland's Roche, the company's cancer drug partner. On Friday, Roche increased its bid to $93 per share, or $45.7 billion, after its $86.50-per-share offer failed to gain shareholder support. The companies have been going back and forth since July, when Genentech rejected a $89-per-share bid as too low.

Among financials, Bank of America jumped 61 cents, or 19.4 percent, to $3.75. Wells Fargo & Co. rose $1.36, or 15.8 percent, to $9.97.

General Electric Co. rose after a spokesman for the conglomerate confirmed that its GE Capital lending arm is selling debt under a federal liquidity program. The company, which often trades in line with financial stocks, rose 35 cents, or 5 percent, to $7.41.

Capital One Financial Corp. became the latest bank to slash its dividend, following JPMorgan Chase & Co., Wells Fargo & Co. and others. The lender said it will reduce its payout by 87 percent to 5 cents to help preserve capital. Capital One rose 42 cents, or 5 percent, to $8.73, after falling to $7.80, a new 52-week low.

Investors also awaited news about the nation's automakers. Members of the Obama administration's auto task force are scheduled to meet with General Motors Corp. and Chrysler LLC executives Monday in the Detroit area and tour their facilities.

The government could recall its $17.4 billion in loans to GM and Chrysler if they fail to sign deals for debt restructuring and other concessions from stakeholders by March 31. GM and Chrysler are seeking $21.6 billion in additional aid to execute turnaround plans submitted last month.

GM rose 23 cents, or 15.9 percent, to $1.68. Chrysler isn't publicly traded.

Bond prices were mixed. The yield on the benchmark 10-year Treasury note, which moves opposite its price, slipped to 2.87 percent from 2.89 percent late Friday. The yield on the three-month T-bill, considered one of the safest investments, rose to 0.21 percent from 0.18 percent late Friday.

The dollar was mixed against other major currencies, while gold prices fell.

Light, sweet crude for April delivery rose $1.55 to settle at $47.07 a barrel on the New York Mercantile Exchange.

Overseas markets ended mixed after the World Bank forecast that the global economy will shrink this year for the first time since World War II. Japan's Nikkei stock average fell 1.2 percent, while Hong Kong's Hang Seng index dropped 4.8 percent. Britain's FTSE 100 rose 0.3 percent, Germany's DAX index rose 0.7 percent, and France's CAC-40 fell 0.6 percent.
Copyright AP - Associated Press