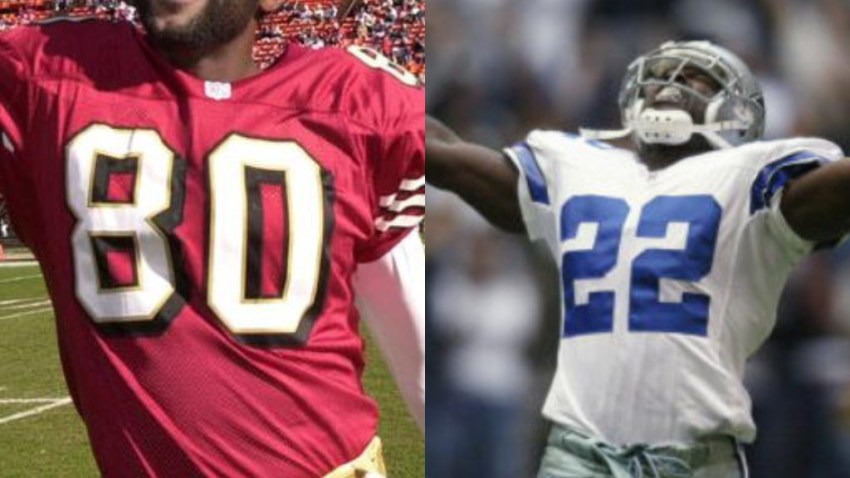 The Pro Football Hall of Fame welcomed seven new members on Saturday including all-time greats Jerry Rice and Emmitt Smith.
"I am just honored ... to stand up there with greatness," Rice said before breaking down in tears.
A nominee needs 80 percent approval from the 44 media members who vote and Rice and Smith were slam-dunks in their first year of eligibility. Vote totals aren't announced.
U.S. & World
The day's top national and international news.
Rice was the league's top pass catcher and all-time touchdowns leader when he played for San Francisco, Oakland and Seattle. He made 1,549 catches for 22,895 yards, had 14 1,000-yard seasons and scored 208 touchdowns. He won three Super Bowl rings playing for San Francisco.
Smith won three Super Bowl championships with Dallas, and rushed for a record 18,355 yards and 164 touchdowns for Dallas and Arizona.
"This is almost perfect," Smith said. "I don't think even Steven Spielberg could have written a script this nice. So many people said I could not do it. I believed in that little giant inside of me that said I can.
"It's just like playing in that big game, this is something you think about, and it is happening. I never thought I would go in .... with this guy here," Rice added about Smith.
The pair also shared the honor with John Randle, Russ Grimm, Rickey Jackson, Floyd Little and Dick LeBeau. Little and LeBeau were picked as senior committee nominees.
They will be inducted into the Canton, Ohio, shrine on Aug. 7.
Copyright AP - Associated Press