A small airplane made an emergency landing Tuesday on southbound Interstate 5 near Del Mar, California, causing traffic for motorists confused and stunned by the unexpected sight.
The single-engine Piper PA-32 aircraft made its landing sometime around 12:15 p.m., according to the FAA, prompting several emergency vehicles to rush to the scene. It's still unclear why the pilot landed on the freeway, though the FAA did say it planned on investigating the incident.
The aircraft came to rest on the far left of the southbound lanes, resting near the freeway's divider. NBC 7 San Diego's Consumer Bob, at the scene, reported seeing fuel leaking onto the northbound side of I-5. Crews quickly moved to clean up the fuel after their arrival.
Consumer Bob said one man who appeared to be the pilot of the plane was seen with injuries to his leg. Later in the day, the FAA said there were two people on board when it came on the freeway.
NBC 7's SkyRanger captured aerial images at the scene, which showed the plane missing half of its right wing. The wing appeared to be about 500 feet away from the aircraft, sitting on the side of the freeway.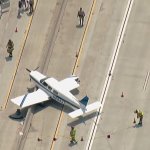 A piece of the aircraft also appeared to have landed on a car that had pulled over to the shoulder. It's unclear if the occupants of that vehicle were injured in connection to the landing.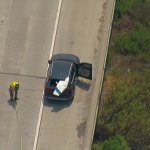 Sarah Tribett, whose car broke the plane's fall, said "It hit us and then swung around. And then, the wing got stuck in the other car."
U.S. & World
The day's top national and international news.
"So, we broke the fall because we and a couple of people behind us drove up to us after and say they literally saw it come down and it landed on our car," Tribett added.
Puzzled drivers could be seen getting out of their cars, snapping pictures of the plane and its broken wing on the freeway. The incident caused a backup on the freeway with traffic at a complete stop.
Officials with the FAA declined to identify the occupants of the aircraft, saying in a statement that the "agency does not identify people involved in aircraft accidents or incidents."
At around 1:30 p.m., the San Diego Fire-Rescue Department tweeted that all lanes along southbound I-5 at Via de la Valle would be closed so officials could investigate the incident and work to clear the plane off the freeway.
Shortly before 4:30, a crane operator lifted the plane onto a big-rig flatbed and carried the aircraft off the highway, permitting the CHP to reopen all lanes.
NBC 7 San Diego