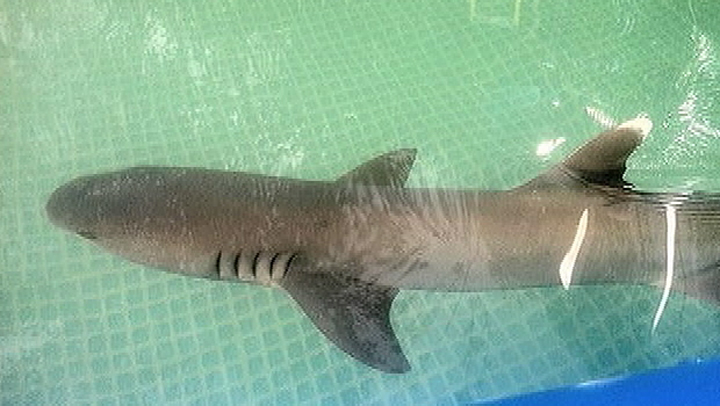 UPDATE: Kmart responds; humane association says animal wasn't mistreated.
---
A 5-foot-long white-tipped shark died after being put in an above-ground pool at a Van Nuys home where a Kmart commercial was being filmed, according to PETA and the American Humane Association.
U.S. & World
The day's top national and international news.
The shark died March 6 after being shipped from New York to Los Angeles.
The shark was injected with adrenaline and received oxygen after it showed signs of stress, according to a statement released Thursday by the American Humane Association. It was later removed from the pool and transported to an aquatic compound, where it died that afternoon.
"The shark appeared to be healthy upon our arrival and during filming, which involved only the animal swimming normally in a 60,000-gallon tank and exhibiting natural behaviors," the association's statement read. "The animal was never trapped and at no point was anyone in the tank with the shark. Nothing more was required of the animal."
PETA said it has sent a letter to Kmart asking it to stop using wild animals in ads, and a letter to the American Humane Association detailing an unnamed whistleblower's account of the death.
The whistleblower worked on the commercial, PETA said.
"Sharks are delicate animals who, in captivity, require a highly specialized and controlled environment," PETA said in a statement. "The noise and chaos of a commercial shoot is a very stressful environment for these sensitive animals."

The humane association – which is in charge of protecting animals during filming and responsible for the "No Animals Were Harmed" certification listed in movies – said it will continue with an investigation led by a third party.

Messages for Kmart, which is owned by Sears Holdings Corp., were not immediately returned. A Kmart spokesman told the Los Angeles Times the incident is being investigated.
Copyright AP - Associated Press