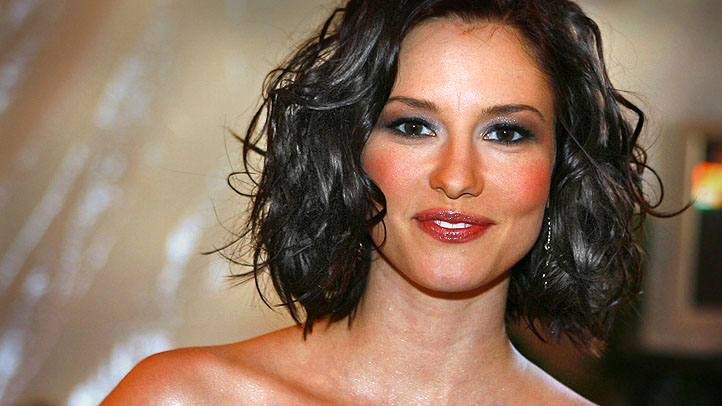 Because singing and dancing high school students are sooooo last month, get ready for the singing and dancing doctors of "Grey's Anatomy: The Music Event," premiering this Thursday night.
The venerable medical drama's getting a one-episode shot in the with a music-centric episode arm – all the cool kids are doing it these days – featuring songs the show's made famous incorporated into a subconscious fantasy playing out in the head of critically injured – and preggers – doc Callie Torres (Tony winner Sara Ramirez), with producers tapping the sometimes hidden singing skills of the "Grey's" stars.
"Initially I was kind of nervous, because I had never done this before," Chyler Leigh, who carries an entire solo in character as Dr. Lexie Grey, tells PopcornBiz (among the tunes tunes familiar to longtime viewers are The Fray's "How to Save a Life," Snow Patrol's "Chasing Cars" and Brandi Carlile's "The Story"). "I sing at home, and my husband knows that I sing, my close friends know that I sing, but other than that I've never really sung in front of other people. It terrifies me for the most part, but it's something that I love. I have a huge passion for music and singing, but I just never really saw where I was going to go with it."
U.S. & World
The day's top national and international news.
Despite some tummy-butterflies, Leigh says, "I was just thinking, 'Hey, this is a really great opportunity for me to actually explore this side of me and be able to just let that go and have fun and know that I'm in a very, very safe and encouraging environment.' I was and I did and I had such a wonderful time. We had a really great vocal coach that was helping us out. The cast really just kind of banded all together for the most part and just kind of went for it!"
Okay, not everyone was ready to scrub into the soundbooth: a few of Leigh's pitch-impaired co-stars – like Patrick Dempsey, whose singing voice isn't quite as McDreamy as his hair – were glad to be spared a solo. "There were some people that were relieved that they didn't have to sing quite as much," she says, "but at the same time, once we got in there and were working together and doing the scenes and singing the songs we all had such a great time and had so much fun doing it. Some of the lines of the songs were spoken and not necessarily sung. They did it in a really cool way so that everybody was involved in some way shape or form with the songs."
Indeed, "Grey's" musical rotation ran surprisingly deep, says Leigh. "We all knew walking into this how fantastic Sara [Ramirez] is. She just never ceases to amaze me with her voice. I'm like her number one, creepy kind of fan! I would stalk her for sure, because she is fantastic. And Chandra Wilson has this really soulful quality, where you kind of want her to sing you a lullaby."
"Kevin [McKidd] is a rock star – he's just rad!" she adds. "He's got such a cool quality to his voice. Eric [Dane] sings and he's got such a great voice. And Justin [Chambers] – I was shocked with Justin. I really was and he sang. I've heard him sing before, and he'll sing Johnny Cash stuff and he's got a really cool rocker vibe to his voice, but when he sang the one part in this song…Oh my gosh, when we heard it at the table read – because they played the music while we were reading the script – everybody started screaming. It was so great, and we're so stoked about that for him."