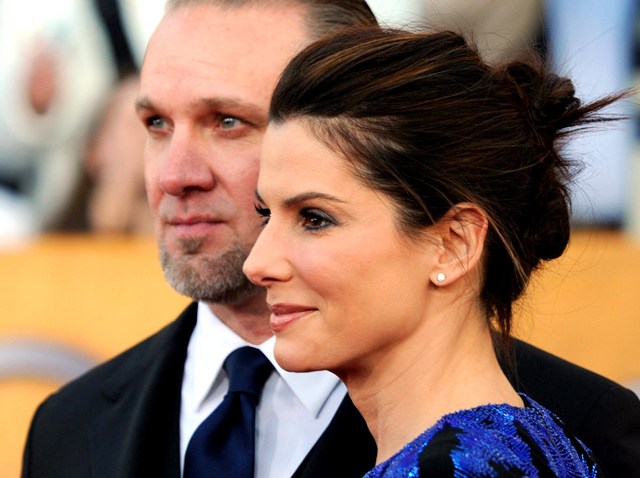 Thanks to a spate of other high profile splits, the buzz around the Sandra Bullock-Jesse James breakup had quieted down. But now the story is back in the news as Bullock's sister, Gessine Bullock-Prado, corrects some misinformation about Bullock's whereabouts.
Stories that put Sandra Bullock in Vermont, where her sister runs a bakery, are untrue, Bullock-Prado wrote on her blog.
"It's reported that my husband of eleven years and I took my sister to some inn (which shall remain nameless because they've gotten enough free publicity from lying up to now) for Easter dinner," she wrote.
U.S. & World
The day's top national and international news.
In fact, Bullock-Prado notes that she blogged on Easter from Chicago, where she and her husband were celebrating their anniversary.
Bullock-Prado goes on to include a copy of her United Airlines reservation as proof. Why do it? She wrote, "I'm also deadly serious about my family, their privacy and even the most benign fictions printed about them."
Bullock herself continues to lay low, and according to a source close to the actress, she is leaning heavily towards divorce.
"There was a point in the very beginning where she could see herself working things out with Jesse. But that was at the very beginning," said the source. "So for now, she's patiently collecting every shred of evidence that has to do with his affairs. She wants to know the entire story before she makes any big moves.
Volcanic ash can't keep Houston down
Whitney Houston's European tour has been plagued with problems: health-related cancellations, pitchy performances, and now, Icelandic volcanic ash.
The singer was unable to fly, as planned, between England and dates in Ireland, so she took a ferry across the Irish Sea to perform her Dublin shows.
The Coachella Music Festival lost acts to the ash, and the next big event that could be impacted by the spewing volcano is the Tribeca Film Festival, which begins Wednesday.
Live, from New York, it's Betty White
Although the Facebook fan page "Betty White to host SNL (please?)" deserves credit for helping to get White her May 8 hosting gig, "Saturday Night Live" creator Lorne Michaels says that was only one piece of the puzzle.
Michaels says he actually thought about asking White to host after seeing the actress at an event in February where she was "unbelievably funny and charming, a real strong presence."
"The Facebook campaign was just beginning, and then it started gaining momentum, and we were all aware of it," he says. "The audience cast it."
Michaels says that at this point in her life, White is ready for the hosting job. "I'm sure we offered Betty White the show in the seventies, eighties, and nineties, as well," said Michaels. "And she's 88 now, so, um, she's ready."
'Kick-Ass' gets kicked
OK, I got that one wrong. "Kick Ass" did not live up to its name at the box office over the weekend.
Instead of coming in at the No. 1, spot as predicted, "Kick Ass" ended up at No. 2, with a $19.7 million take. Once again, 3-D won out; "How to Train Your Dragon" was in first place with $20 million.
In third place was Tina Fey and Steve Carell's "Date Night," which made $17.3 million during its second weekend in theaters.
Courtney Hazlett delivers the Scoop Monday through Friday on msnbc.com. Follow Scoop on Twitter @courtneyatmsnbc
Copyright MSNBC - MSNBC