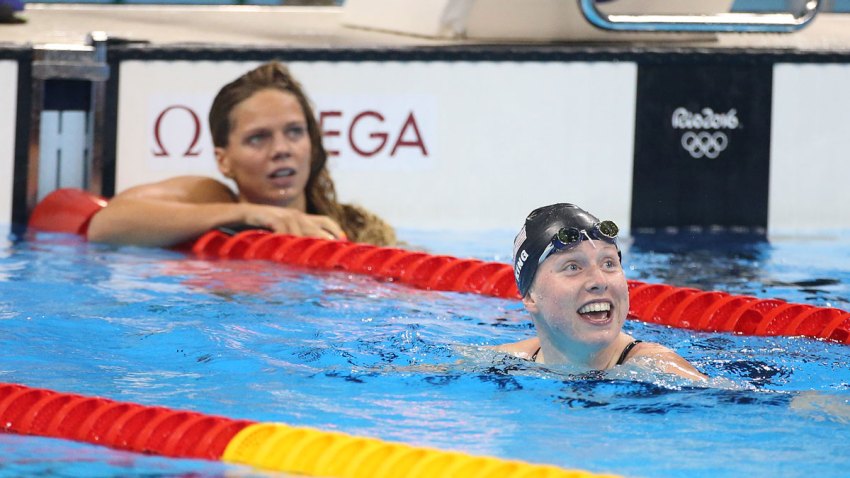 Russia's top Olympic official has called U.S. swim star Lilly King a "little girl" in a sharp-tongued response to her criticism of the doping-ban past of her Russian rival Yulia Efimova.
King was sharply critical of Efimova, who received a 16-month ban for a positive test in 2013, before beating her to gold in the 100-meter breaststroke Monday.
The competition between the two swimmers got off to a testy start when Efimova wagged her finger at King following a semifinal win last Sunday. King reciprocated with a finger wag of her own after beating Efimova's time in her own semfinal.
U.S. & World
The day's top national and international news.
King then spoke out after winning the 100-meter race against her Russian rival.
"It just proves you can compete clean and still come out on top with all the hard work you put in behind the scenes, behind the meet, at practice and weight sessions," King said after the race. "There is a way to become the best and do it the right way."
Russian Olympic Committee head Alexander Zhukov said "when athletes start looking like politicians, it's funny, especially when it's a 19-year-old little girl who hasn't achieved anything yet," adding that "when she grows up, she'll understand she behaved wrongly," in comments reported by R-Sport.
Zhukov combines sports and political roles as a senior member of Russia's ruling party.
King also criticized U.S. sprint star Justin Gatlin for his doping past.
She was asked about whether she believed it was fair that other athletes like Gatlin were allowed to take part.
"Do I think people who have been caught doping should be on the team? They shouldn't. It is unfortunate we have to see that," King said.
After finishing his heat, Gatlin responded: "I don't even know who Lilly King is."
Gatlin said he's paid his debt to the sport, following two suspensions for using performance-enhancing drugs. He was banned in 2001 for a year, and again in 2006 for four years, which kept him from competing at the 2008 Beijing Olympics.
"I've worked hard, all the way from the bottom when I had nothing," Gatlin told the Associated Press earlier. "I worked hard to work back to where I'm at now. I don't understand. The system has worked. I think people need to stop looking at trying to be the judge, the jury and executioner and let the system do its job."
Copyright AP - Associated Press