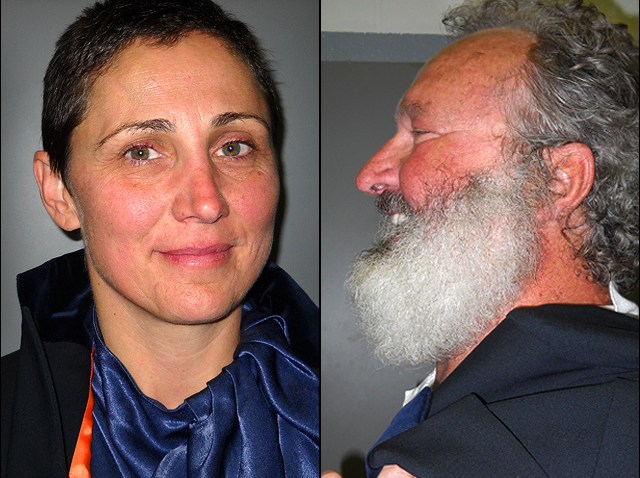 Randy and Evi Quaid are reportedly on the run from the law again!

According to People, the actor and his wife skipped two scheduled court dates in Santa Barbara, Calif., earlier in the week and are wanted by the state of California as fugitives.

"If they're picked up in California, they will be put in jail," Santa Barbara Senior Deputy District Attorney Lee Carter told the mag. "They cannot be released on bail until they come back here and a judge [agrees to] set bail for them."

The Quaids' trouble started after allegedly not paying a $10,000 hotel bill last June – a charge they pleaded not guilty to – and previously missing multiple court dates. A previous arrest warrant was issued for the couple last December. The couple has avoided jail time so far by eventually posting bond.

Carter told the mag that the couple's lawyer, Robert Sanger, assured the Santa Barbara District Attorney's Office that the Quaids would show up to court last week. When contacted by the mag, Sanger was unavailable for comment.

After not showing up, a judge issued a no-bail warrant for the Quaids.

"The warrant will go nationwide," Carter told the mag. "Anyone out there that comes in contact with them can pick up our warrant and start their own felony fugitive case."


Related Content from AccessHollywood.com:
VIEW THE PHOTOS: Mug Shot Mania
VIEW THE PHOTOS: Are They Or Aren't They? Hollywood's Hottest Rumored Couples
PLAY IT NOW: NeNe Leakes: 'My Son Has Made A Mistake'
PLAY IT NOW: Has Charlie Sheen Returned To Work After His Holiday Arrest?
MORE ACCESS ON THESE TOPICS: Randy Quaid - Jail - Courts - Crime
Copyright NBCAH - Access Hollywood