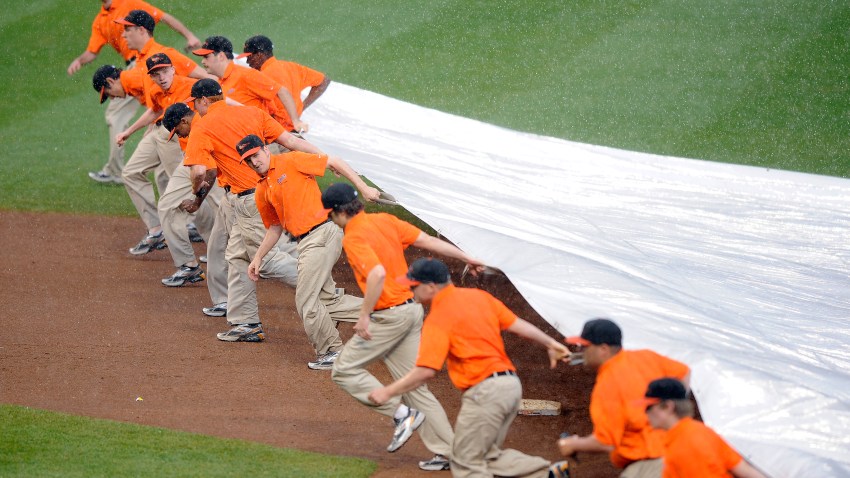 Spring training games are meaningless, but the Orioles radio team took that maxim to its illogical conclusion on Sunday. Broadcasters Fred Manfra and Joe Angel snuck out of the park during a rain delay, figuring it'd be canceled. Well, it wasn't. They got caught playing hooky.

We're at the point in spring training where the games really don't matter. The final roster decisions have mostly been made. It's just about getting players a few more ABs to get sharp, and stretching out the pitchers' arms. And hoping nobody valuable gets injured.

It's no-pressure baseball that doesn't really mean a thing.

So when the Mets traveled to Fort Lauderdale to take on the dreaded Orioles -- in one of the few spring training games that the Orioles have on the radio -- it's reasonable for everyone to have a ho-hum attitude.

After an inning or so of baseball, the rains came.

Fred and Joe did their best. They did rain delay theater for about 40 minutes before signing off and throwing it back to regular radio.

Then they left, apparently figuring the game was going to be called.

Oops!

About an hour after the twosome headed back to their hotels for a good schvitz, the umps yelled "play ball!" and the game resumed. Sans radio guys.

The Orioles executives seemed surprised. One told the NY Post, "the rest of the game was not on the air back home and we don't know why. We looked over during the game and they weren't there."

Poor Fred and Jim. They tried doing what all employees dream of.

They need to be more careful. Nobody wants to get caught by their boss sneaking down the back staircase. Perhaps they'll check the weather a bit more closely next time.
Chris Needham used to write Capitol Punishment. He won't reveal his hookie secrets here in case his boss is reading.
Copyright FREEL - NBC Local Media