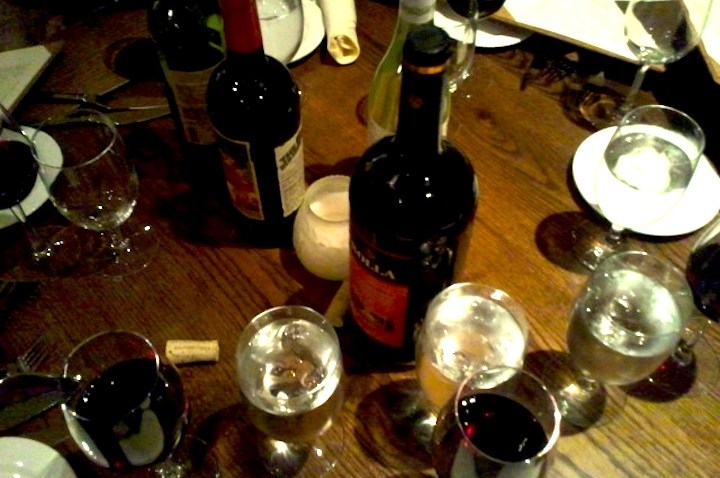 Producer Maureen Giannone hit the streets of Philadelphia to take on the arduous task of scouting Philly's finest eats for upcoming episodes of 1st Look. Here's what she found.
Derek's - From pulled pork to homemade chip-wiches, the menu at Derek's in Manayunk has everything you could ever want, just like it's charming surrounding neighborhood. And with a vast menu of delicious food, the quality remains high throughout each course of your meal.
Some favorites: Derek's house salad (balanced, sweet, delicious), seared Maine scallops (cooked and seasoned perfectly—and I'm not big on scallops), pasta with mussels in white wine sauce (beware: this sauce has a kick and that's exactly what I loved), creme brulee (crisp and smooth, with a homemade chocolate chip cookie on the side).
U.S. & World
The day's top national and international news.
Things to know: BYOB (two bottle max) and the service was aces—cheers to that!
Branzino
- First off, unlimited BYOB will have you wining and dining for hours. Good thing it's here, as this Italian menu is really great. And for a white tablecloth kind of place, the crowd and atmosphere are very energetic, making it the perfect place for small parties and intimate celebrations.
Some favorites: Insalata di lintilies (really original lentil salad with crisp ingredients), paglia é fieno con gamberi é grancchio (fettucine in white wine sauce with shrimp and cherry and sundried tomatoes—need I say more?), gnocchi al funghi (lick-the-plate-clean good).
Things to know: After you've filled your stomach, fill your soul with some drinks next door at the Black Sheep Pub. But beware: the crowd and vibe is cool, but service—not so much.
Continental Midtown
- I don't know many places around that make you drool with envy as your head follows every single dish coming from the kitchen: huge house salads, gooey breakfast favorites, and indulgent mains and sides. These guys are perfecting brunch and making it the whole-day affair it should be. The restaurant has a retro-diner feel but spins it with a modern-flair menu that perfects breakfast, lunch, dinner, and any craving in between.
Some favorites: Continental salad (enormous portion and gives you that fresh hit you may need on a rough weekend morning), lobster mac 'n' cheese (oozing with cheesy lobster meat and changing it up with orzo instead of the usual elbows), crunchy brioche french toast (crispy, drippy, mouthwatering french toast that, with all the fixings, tastes almost donut-like).
Things to know: Beautiful Miami-like rooftop seating and open-air bar. I almost asked for a bite of the tiramisu waffles from the next table over … guess there's always next time.
Copyright LXTVN - LXTV