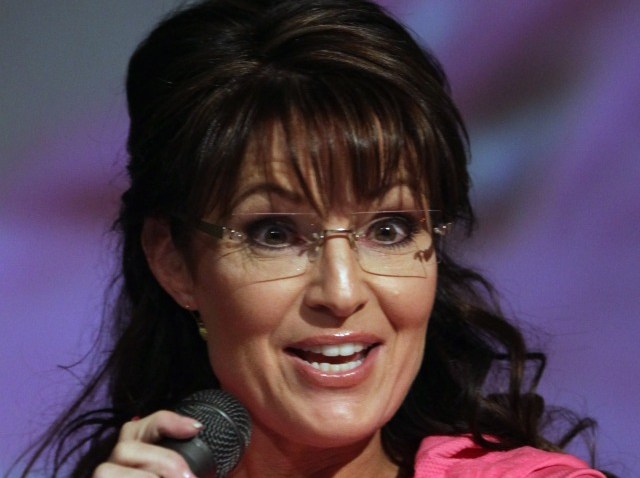 It's rare that $600 billion gets called a joke. But these are different times.
As the U.S. readies to join the other Group of 20 nations in Seoul, South Korea, its plan to pump money into the banking system to jump-start the recovery is finding enemies both foreign and domestic – from finance officials in Germany and China to Sarah Palin.
Former vice presidential candidate and Tea Party favorite Palin weighed in on the debate late Monday over whether the plan, known as quantitative easing, would help boost the U.S. economy, calling on Federal Reserve Chairman Ben Bernanke to "cease and desist."
U.S. & World
The day's top national and international news.
"When Germany, a country that knows a thing or two about the dangers of inflation, warns us to think again, maybe it's time for Chairman Bernanke to cease and desist," Palin said in a speech in Phoenix.
Palin was referring to a statement last week from German Finance Minister Wolfgang Schaeuble, who said he was perplexed by the move, which aims to boost the economy by making loans less expensive.
The issue, if not Palin's take on it, is sure to loom over the two-day G-20 conference, which opens Thursday.
"I have great doubts about whether it makes sense to pump unlimited amounts of money into the markets," Schaeuble told Der Spiegel news magazine on Saturday. "There is no shortage of liquidity in the U.S. economy. I can't see the economic argument for this move."
More to the point, last week he called the policy "clueless."
Bernanke has been defending the plan almost from the moment it was announced last Wednesday.
In an editorial penned for The Washington Post last week, Bernanke said concerns that the Fed's program would spur rampant inflation were overblown. He has argued that the policy would lead to a stronger U.S. economy, which is good for the world and would eventually lead to a stronger U.S. currency.
The Fed is making the move because unemployment, now at 9.6 percent, is too high and inflation is too low, he argued. "In the most extreme case, very low inflation can morph into deflation (falling prices and wages), which can contribute to long periods of economic stagnation," Bernanke said.
China, Germany, Brazil and a host of developing nations are worried the plan will have the opposite effect. They are concerned that the Fed's move will weaken the U.S. dollar and spark asset bubbles and inflation in their own nations. Pumping $600 billion into the U.S. banking system is likely to lead to lower interest rates and a weaker dollar, which makes U.S. exports relatively cheaper than exports from other nations.
Ma Delun, a deputy governor of the People's Bank of China, said Tuesday he was concerned the Fed's spending spree may undermine efforts to balance out global growth.
The Fed's program "may add risks to the global economic imbalance, put pressure on emerging markets to adjust their international balance of payments and could also stir the formation of asset bubbles, all of which require our vigilance," Ma said in Beijing.
China is concerned enough about that possibility that it has pushed up yields on short-term debt and announced for new rules to slow the flow of "hot money" into its banking system.
There's even worries within the Fed about whether the program could ignite inflation in the United States. Kevin Warsh, a Fed governor with close ties to Bernanke, warned Monday that the program has "significant risks" and said he doubted it would have "significant" benefits for the economy.
But Bernanke drew unusual support from President Barack Obama, who rarely comments on decisions made by the independent Fed.
"The Fed's mandate, my mandate, is to grow our economy. And that's not just good for the United States, that's good for the world as a whole," Obama said at a news conference in India Monday "The worst thing that could happen to the world economy . . . is if we end up being stuck with no growth or very limited growth. And I think that's the Fed's concern, and that's my concern as well."
Some investors were voting with their pocketbooks by buying gold, a safe haven in times of economic uncertainty. Gold hit record highs for a fourth day in a row Tuesday, with futures for the precious metal climbing to $1,422.10 an ounce.
The growing tensions have led some to call for using gold if not as a standard, then at least as a guidepost for currencies. World Bank President Robert Zoellick, a former Treasury Department official, called for a system to use gold "as an international reference point of market expectations about inflation, deflation and future currency values."
Writing in the Financial Times, Zoellick said the system "is likely to involve the dollar, the euro, the yen, the pound and a (Chinese) renminbi that moves towards internationalization and then an open capital account."
Obama turned the criticism around on China Tuesday as he cautioned that the G-20 still had a long way to go to in creating a framework for balanced global growth.
"We still have a lot of work to do," Obama said at a news conference in Indonesia.
"One of the key steps is putting in place additional tools to encourage balanced and sustainable growth," he said. "We have not yet achieved that balanced growth," he added, noting that some countries were intervening in currency markets to maintain an advantage, without naming names.
Copyright MSNBC - MSNBC