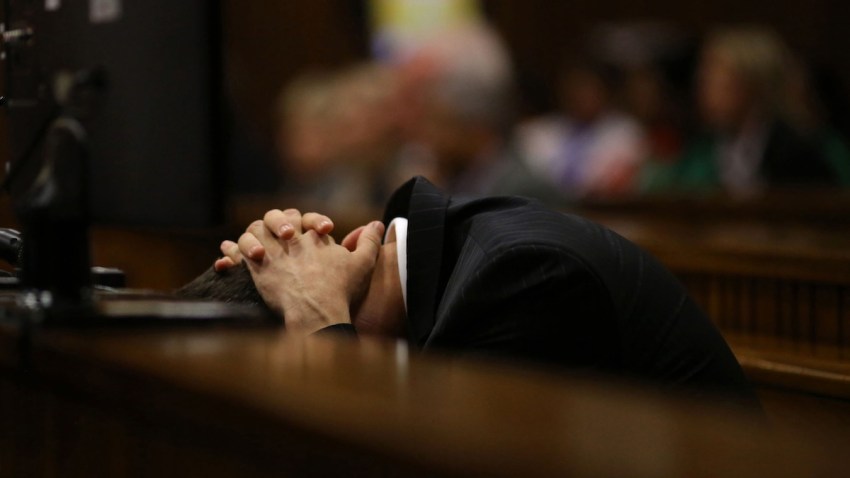 Oscar Pistorius appeared to become physically ill during his murder trial Monday, as the expert who conducted the autopsy on the Olympic "Blade Runner's" shot girlfriend Reeva Steenkamp testified in court, NBC News reported.
"Pistorius retching loudly, possibly vomiting, as graphic postmortem details are delivered," tweeted reporter Rohit Kachroo after Gert Saayaman, head of the forensic medicine department at the University of Pretoria, took the stand.
The judge in the murder trial banned live broadcasting and tweeting of Saayman's graphic testimony. Judge Thokozile Masipa announced the ban after prosecutor Gerrie Nel, supported by chief defense lawyer Barry Roux, said Saayman's testimony would have an "explicitly graphic nature" and should not be shown around the world.
U.S. & World
The day's top national and international news.
For full world news coverage, visit NBCNews.com
"It's not a question of press freedom," Nel said.
Before beginning his testimony, Saayman said the "very personal nature" of his autopsy findings as well as graphic details about the injuries could "compromise the dignity of the deceased," as well as harm her friends and family, if they are broadcast.
"It goes against the good morals of society for us to make information of this nature available" in a way that children and other unsuspecting people might be exposed, Saayman said in the witness box.
Proceedings can be partly televised and the audio can be broadcast in its entirety under a judge's pre-trial order that sought to balance the right to a fair trial with the intense public interest in the Pistorius case and the principle of open justice. Under the order, some witnesses can choose not to be shown on television.
Earlier Monday, Masipa extended that order, saying "private witnesses are more vulnerable than public figures" and that still photographs of witnesses who requested some discretion cannot be published or disseminated for the duration of the trial, even if they were obtained from sources outside the courtroom.
The new ruling followed the publication in a South African media outlet last week of a photo of a witness whose image was lifted from a publicly accessible website.
Pistorius, the first amputee to run in the Olympics, is charged with premeditated murder for Steenkamp's shooting death. The 27-year-old Pistorius says the killing was accidental because he thought his girlfriend was a dangerous intruder in a toilet cubicle in his home.
Before the adjournment Monday, a security guard who said he spoke with Pistorius soon after the shooting of Steenkamp was questioned by the defense about his recollection of the sequences of the events that night.
The sequence is important for the defense because, if it can prove that Pistorius called security first, it could support the contention that he was seeking help as quickly as possible.
The guard, Pieter Baba, had recalled a conversation with the double-amputee runner, who killed Steenkamp in his home in the early hours of Valentine's Day last year. Baba testified Friday that he called Pistorius and was told "everything is fine" on the telephone. Baba said Pistorius then called him back moments later, didn't speak, was crying and the second call then ended.
Baba said he was responding to neighbors' reports of gunshots coming from Pistorius' home after 3 a.m. on Feb. 14, 2013. He drove with a fellow guard to Pistorius' villa and made the call from outside the house.
Baba's statement that he called Pistorius first could back the prosecution's case that the killing was premeditated, and that Pistorius was trying, at least initially, to conceal what he had done.
On Monday, however, Roux said call records showed Pistorius called security first, but couldn't speak because he was "indeed crying."
"I'm the one who called him first," Baba insisted.
"His call was first and your call was second," countered Roux, saying he had documents, including one from the police, which showed his assertion to be true.
"I put proof in front of you that Mr. Pistorius called first," Roux said. Roux said Pistorius had called before the guards went to his house.
"If Mr. Pistorius called me first, then I would have known that something was wrong at his house," Baba replied, repeating his version.
Copyright AP - Associated Press