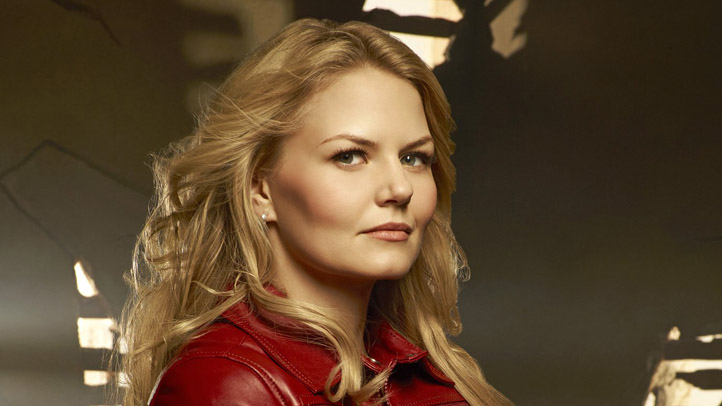 Jennifer Morrison's discovered all kinds of arcane fairy tale trivia working on her new series "Once Upon A Time."
"'Little Red Riding Hood' was originally called 'Little Red Cap,'" she tells PopcornBiz, showing off her newfound knowledge. "I thought that was hysterical. It kind of changes things."
"Once Upon a Time" kind of changes the storybook canon, too. Set in the modern day, the series follows Morrison's character Emma Swan, a hard-edged bounty hunter sent on a journey into her own mysterious roots when she's tracked down by Henry, the son she gave up for adoption long ago. Their reunion leads her to the seemingly idyllic small town of Storybrook, which is populated by iconic, immortal fairy tale characters, including Emma's parents Snow White (Ginnifer Goodwin) and Prince Charming (Josh Dallas), who've been trapped there for ages with no memory of their previous lives thanks to the curse of the Evil Queen (Lana Parilla) – who also happens to be Henry's adoptive mother.
U.S. & World
The day's top national and international news.
"The script was so amazing," says Morrison of the tweaked take on the classics from creators Adam Horowitz and Edward Kitsis, writers on "LOST" and "Tron: Legacy." "I kept saying 'I can't believe this works, I can't believe this works, it really totally works,' because it's a very hard concept to articulate verbally, but when you see it, it works. Because they decided to do it in a way that the relationships were very grounded and real. You jump into this world right away because it's not stylized in a way that's off-putting. Eddie and Adam are just phenomenal writers and have been writing on some of the best shows on television for five years, so you just know you're in good hands when you've got a script that good and writers that are capable. Every puzzle piece was there, and it's completely character-driven."
After previously starring on "House" and recently having a recurring role on "How I Met Your Mother," this is Morrison's first taste of a series driven by a complex mythology. "Eddie and Adam are great about talking to us about the mythology and they're headed with things so that we understand exactly how to answer some of that stuff beyond what people have seen," she explains. "I think it'll probably be intense at times." She says that she has no concerns about the numerous questions left hanging to bedevil viewers after the first episode. "I'm thrilled, because if everything was answered in the pilot why would anyone watch the next episode. That's the point: we want people asking questions. We want people intrigued and wanting to search for those answers."
Morrison was also thrilled that a personal pal, Ginnifer Goodwin, had been contracted to play her mom – even though they're contemporaries. "She was already signed on to play Snow White, and she's a friend of mine and I wanted to work with her." There's also no jealousy that Goodwin gets to play the "princess" role. "But I AM a princess – I just don't know it," Morrison reminds. "I'm a brand-new princess, and that's kind of exciting."
The actress admits she is definitely among the generation of women who grew up adoring Disney's stable of princess characters, from Snow White and Cinderella to the Little Mermaid and "Beauty and the Beast's" Belle, and is pleased that the series, which is produced and airs on Disney-owned ABC, can draw from their pop culture impact.
"I grew up on Disney and by the time that I was 18, I'd had 27 vacations in Disneyworld," she chuckles. "My favorites were a toss-up between Cinderella and Alice in Wonderland – I really like both of them. I was Disney all the way growing up, so it's kind of interesting to come full circle as an adult and be a part of the Disney family."
And for the time being, Emma will be a princess like we've never seen before, without a crown or fancy ball gowns. "Emma was a tough character to dress, to be honest, because she's someone who adapts to her surroundings. She's a survivor, so she becomes what she needs to become to survive which leaves her searching for identity the whole time. There's something very tough about her and also something very broken about her. She's a constant contrast and in constant conflict and she's not someone that you can sum up in a moment. So in one moment you can think she's one thing and then in the next thing she's another."