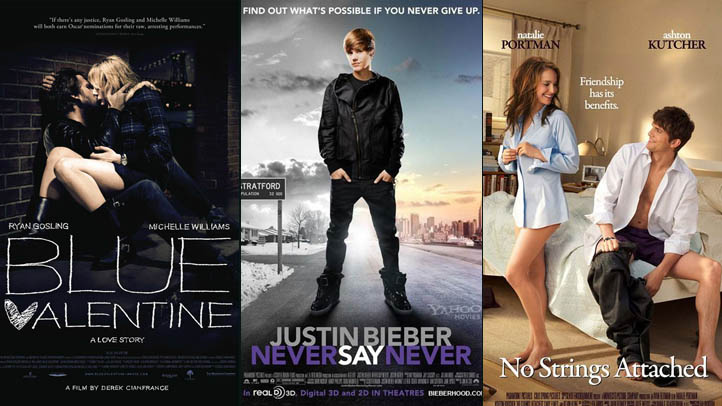 This week brings with it one of our favorite films of 2010, a limp romcom, a controversial animated film, some great horror, four docs that couldn't be more different and a few others.
No Strings Attached
Natalie Portman is a doctor committed to nothing but her career, Ashton Kutcher is the struggling TV writer who agrees to have a purely physical relationship with her, until, that is, he falls for her. Now Blu-ray and DVD, read our theatrical review and watch the trailer
Justin Bieber: Never Say Never (on Fri)
A documentary chronicling the young pop stars rise from child prodigy to YouTube sensation to global brand.. Now Blu-ray and DVD, watch the trailer
U.S. & World
The day's top national and international news.
Blue Valentine
Ryan Gosling and Michelle Williams star as a couple whose marriage is falling apart. In a last ditch effort to revive the spark, they head off to New York, as the beginning of their romance is shown in flashbacks. Now Blu-ray and DVD, read our theatrical review and watch the trailer
The Illusionist
Based on Jacques Tati's unproduced semi-autobiographical script and directed by Sylvain Chomet ("Triplets of Belleville"), the film tells the story of a young girl who follows a traveling magician to the big city. Now Blu-ray and DVD, read our theatrical reviews--one of us liked it, one of us didn't--and watch the trailer
I Saw the Devil
When a woman, the daughter of an ex-cop, is targeted by a notorious serial killer, her fiance, himself a special agent, goes hunting for the madman. Now Blu-ray and DVD, read our theatrical review and watch the trailer
Black Death
As the plague wreaks havoc on Europe, Ulric (Sean Bean) is charged with investigating rumors of a secret village led by a necromancer who can bring the dead back to life. Now Blu-ray and DVD, watch the trailer
Budrus
A documentary about Ayed Morrar, a Palestinian who manages to get Fatah, Hamas and Israelis to join his unarmed movement to save his hometown from Israel's Separation Barrier. Now Blu-ray and DVD, watch the trailer

Cropsey
Documentarians Joshua Zeman and Barbara Brancaccio return to their Staten Island roots to investigate the story of an alleged bogeyman who haunted their childhood home, snatching kids form the streets and killing them. Now Blu-ray and DVD, watch the trailer

How I Ended This Summer
Two men are stationed on an Arctic Island, when one of them goes off on a fishing expedition, the other learns that his colleagues family has been in an accident. But rather than inform him of the news, he keeps it a secret. In Russian with English subtitles. Now Blu-ray and DVD, watch the trailer

Bhutto
The life and times of Benazir Bhutto are recounted in this documentary that chronicles her life of privilege, her rise to power, exile, triumphant return and tragic assassination . Now Blu-ray and DVD, watch the trailer