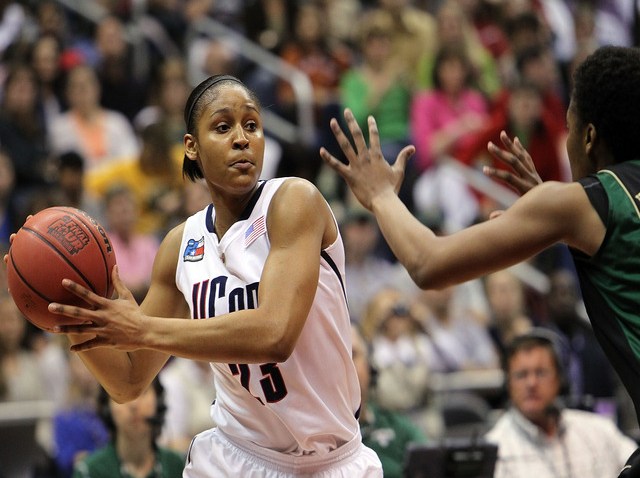 Number 80 didn't come easy, but one of sport's most impressive current streaks remains intact.
The new look, yet remarkably familiar No 1. Connecticut Huskies women's basketball team stormed back from a late eight-point deficit to capture their 80th straight victory, beating No. 2 Baylor 65-64 after a three-point shot from the Lady Bears fell just short of the basket.
Huskies coach Geno Auriemma held his head in his hands, shocked that his team had pulled out the win, continuing a winning streak that started two years ago.

"I don't think they knew if they could do it," Auriemma said. "I was really anxious like everyone else was. The rest of the way here, let's see what happens."
U.S. & World
The day's top national and international news.
The win pulls the Lady Huskies within striking distance of one of college basketball's most hallowed records. They are eight wins away from tying the 88-game win streak put together by John Wooden's legendary UCLA teams in the 1970s. Should they continue to win, they can tie the record December 21.

Connecticut is still on top, but the rest of women's basketball is inching closer. Most of the games during the streak were over by halftime, and only once has a team come within single digits at the end — that was in last year's NCAA championship game against Stanford.

Showing they could win a close one, too, the Huskies overcame 6-foot-8 Baylor star Brittney Griner and a 56-48 gap with 6:42 to go.
UConn star Maya Moore led the way to the victory with an impressive stat line: 30 points, 7 rebounds, 2 assists, 6 steals and 1 block.

"I thought we played great for long stretches. Obviously, Baylor is a great team and they made their run," Auriemma said. "Then the improbable happened — people other than Maya began scoring.

"They don't know what it's like to come back from a run."

It's true. The Huskies have spent the last two seasons rolling over every opponent, waiting for a real challenge.

They got one against Baylor.

"This was the perfect scenario," Moore said. "First because we got the win when we needed it. We made just enough great plays to show that side of us — how good we can be. Keeps us humbled that we can't go for stretches like that where a team gets a (huge) run."

Though Moore was the star, freshman Bria Hartley who saved the Huskies after they wasted a 15-point lead early in the second half.

Moore shot an airball from the corner with 6 seconds left as the shot clock went off and Melissa Jones grabbed the rebound. Instead of giving the Lady Bears the ball on the side for a shot-clock violation, the officials let the game continue.

Having just used its last timeout, Baylor had no choice but to try to get to the basket. Odyssey Sims brought the ball up the court, but her 30-foot attempt was nowhere close.

"I think there's always something cool when you do something for the first time with a group of people," Auriemma said. "You know you don't have all the answers. For the last two years it's been, let's do that. Now it's not going to be like that."

After the game, Mulkey wondered about the final sequence.

"Was that a shot-clock violation?" she asked reporters. "Did anyone watch that?"
The Big East quickly answered her question.

"If the other team has the ball as the horn is going off, that's a possession. So there's no shot-clock violation," said Big East assistant commissioner Barb Jacobs, who is in charge of officiating.

Mulkey downplayed the result.

"Do you see us crying? Could we have won the game?" she said. "I learned I have a talented basketball team."

Copyright AP - Associated Press