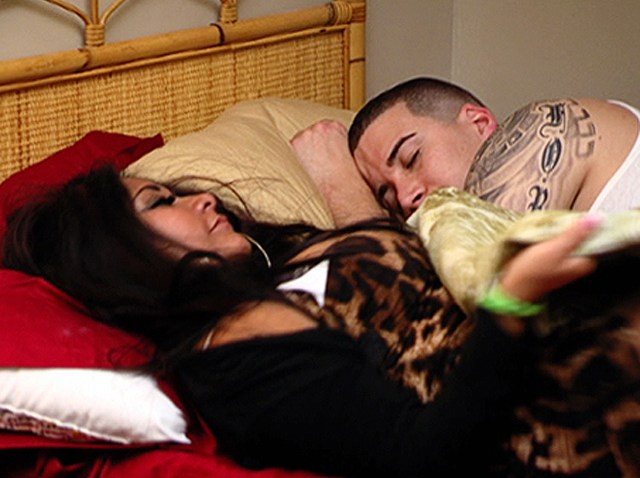 Loving the pint-sized star of "Jersey Shore" has not been easy for ex-boyfriend Emilio Masella.
Snooki's "gorilla juicehead" had to watch his beloved bunking up with cast member Vinny on the latest episode of "Jersey Shore."
The scene was so upsetting he called People magazine to declare war on Vinny.
U.S. & World
The day's top national and international news.
"Vinny is lucky he is not on the Jersey Shore this week," Masella said in a not-so-strongly-worded salvo. "I would confront him in person."
In the latest episode of this year's season of "Shore," an intoxicated Vinny beckons the pear-shaped Snooki into his bedroom, where the two roll together beneath the blankets.
In the following scene, Vinny walks out of his room the next morning and asks, "Did I do the unthinkable?"
Masella and Snooki were still an item at the time, and Masella said watching the episode stung worse than sand in the eye.
"I was at a bar and to see that in front of so many people, I was really hurt," Masella told People. "I felt so embarrassed."
The two are no longer a couple, over rumors that Masella was using the recently-jailed party girl as a stepping stone to launch his own reality career. He has spent the summer hanging out with another small screen fame-chaser, Spencer Pratt.
Masella even mounted a rescue mission to free his beloved guidette, flying across the country to bail her out when she was picked up for disorderly conduct. "I just wanted to tell Snooki how much I love her," the star-crossed lover told Radaronline.
But before he could arrive, his ex-boo was already out of jail and bopping around with another guy.
Still, Emilio Masella is not willing to turn the page on his romance with the Snookster. "You never know," Masella said about the two reuniting. "It's definitely possible. Anything's possible."