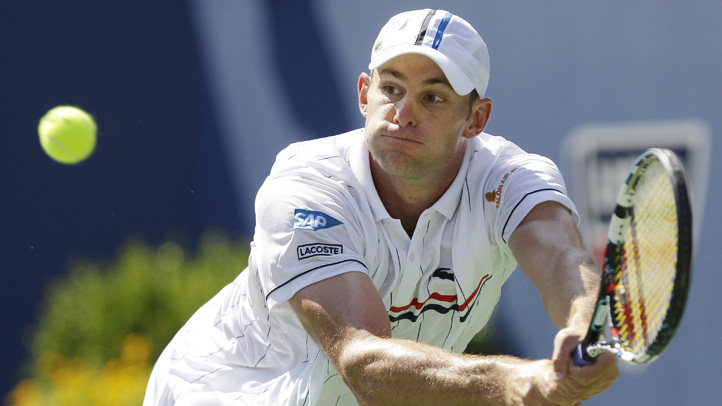 Someday, fans will file into Arthur Ashe Stadium to watch some other American star play.
For now, Andy Roddick remains the man they want to see at the U.S. Open — and on Tuesday, he showed no signs of that changing right away.
Two days away from his 30th birthday, Roddick put at least a temporary halt to a budding American success story with a 6-3, 6-4, 6-4 victory over 21-year-old qualifier Rhyne Williams of Knoxville, Tenn.
U.S. & World
The day's top national and international news.
Williams, the NCAA runner-up in 2011 who earned a wild card into qualifying, won three straight matches last week at Flushing Meadows to get into the main draw, then suddenly found himself making his Grand Slam debut in the world's largest tennis stadium against the 2003 champion.
"I was just hoping he wasn't going to go at me with a serve," Williams said, when asked of his first thought after seeing Roddick's name next to his in the draw. "I was like, 'Oh, no, where's he going?' That's the first thing I thought of. Then it was, 'It'll be great. I can play in front of a big crowd.'
"It was quite an experience."
In another all-American matchup in Arthur Ashe Stadium, Venus Williams defeated wild card Bethanie Mattek-Sands 6-3, 6-1 in 62 minutes. It was Williams' first match at Flushing Meadows since pulling out before the second round last year with fatigue caused by Sjogren's syndrome. More recently, Williams has been battling back problems, but after her win, she said, "I can't complain."
"I'm feeling great," she said. "I'm happy that I'm here and in the next round."
Roddick won his 41st career match at Flushing Meadows, and he's not new to the drill of walking on court to play a young American. Last year, he beat Jack Sock, then an 18-year-old wild card, who went on to win the mixed doubles title with Melanie Oudin. In 2009, Roddick lost in the third round to John Isner, who was then ranked 55th and looking to make a name for himself.
This year, the opponent was Williams, who played college tennis at Tennessee, came into this week ranked 289th and whose biggest payday this year was $7,700 for making it through qualifying at Indian Wells. This first-round loss will net him $23,000, though the learning experience figures to be worth every bit as much.
"I need to get a lot stronger, a lot quicker," Williams said. "Those are the two main things. I feel I hit the ball well. I have a pretty good game, I think. I know how to play the game. It's mostly a physical maturity thing. I've got a lot of work to do from the physical aspect."
Roddick was never seriously threatened, finishing with 20 aces and serving at a top speed of 141 mph.
"You really don't see that shot," Williams said of the Roddick serve.
But Roddick also left impressed with his opponent, who dropped one service break in each set but made his fellow American work to close them all out. Williams had seven aces of his own and his serve topped out at 131 mph.
"He has a good base," Roddick said. "He can create something. Now, it's just a matter of, he has to be a little bit quicker. ... But if you can win free points off your serve, it's a good start."
Also winning in straight sets Tuesday were fifth-seeded Jo-Wilfried Tsonga and sixth-seeded Tomas Berdych.
No. 15 Milos Raonic, the 21-year-old big server from Canada, needed five sets to get past Colombia's Santiago Giraldo. Like Roddick, Raonic's fastest serve clocked in at 141 mph. He had 30 aces, but also finished with 15 double faults.
"I don't think I struggled with my serve that much in a long, long time," Raonic said. "A lot of double faults, and it wasn't just one double fault per game."
On the women's side, No. 2 Agnieszka Radwanska of Poland beat Nina Bratchikova of Russia, 6-1, 6-1; and No. 12 Ana Ivanovic of Serbia defeated Ukraine's Elina Svitolina, 6-3, 6-2.
Ivanovic is coming off a 6-0, 6-0 loss to Roberta Vinci at a tuneup match in Montreal — not exactly the confidence builder the former French Open champion and top-ranked player was looking for.
"In that first game, I was like, 'Oh my God, at least I should win a game first,'" she said. "It's a lot different. Taking all into consideration, I'm really happy with today's performance."
No. 4 Serena Williams and No. 2 Novak Djokovic had matches later in Arthur Ashe Stadium, while top-seeded Roger Federer and Victoria Azarenka, and No. 3 Maria Sharapova all had the day off after straight-set victories on Monday.
Copyright AP - Associated Press