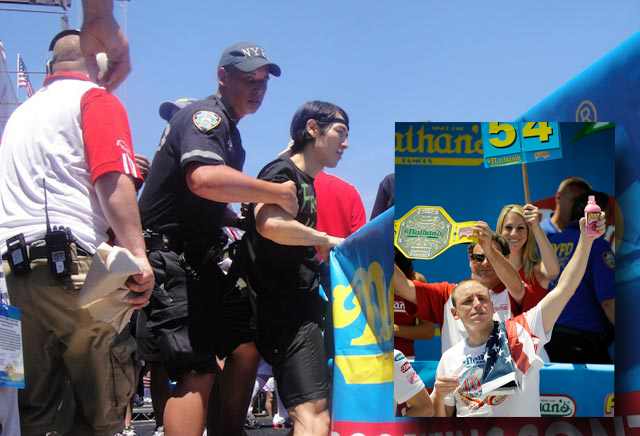 Every Fourth of July, Coney Island stages an event featuring two of America's biggest loves: hot dogs and competition.
The two pastimes merged Sunday afternoon by the Brooklyn boardwalk for the annual Nathan's Famous Fourth of July International Hot Dog Eating Contest.
And for the fourth year in a row it was won by defending champion, 26-year-old Californian Joey "Jaws" Chestnut, who ate 54 wieners and buns in 10 minutes.
U.S. & World
The day's top national and international news.
The 230-pound-man takes home the bejeweled, mustard-yellow belt plus a $20,000 purse. He didn't break the record of 69 hot dogs, but had such a comfortable lead over the competition with four minutes left that he seemed to slow down.
"I actually stopped drinking water today, so I was a little bit dehydrated going into the contest, but it's alright, I beat the competition today, if anybody else was here I would have beat them too," said Chestnut, his last comment a veiled reference to 6-time champion Takeru "The Tsunami" Kobayashi -- who was in the crowd amassed on Surf and Stillwell Avenue in Brooklyn.
"If he was a real man he would have been on the stage, there's no reason for him not to be here," said Chestnut.
Tim "Eater X" Janus came in second with 45 hot dogs consumed, and Pat Bertoletti rounded out third with 37.
Kobayashi, The world's No. 3 professional eater had refused to sign a contract with Major League Eating — the fast food equivalent of the NFL — to be free to compete in contests sanctioned by other groups, said George Shea, host of the Coney Island event televised live on ESPN.

"It's like Tom Brady saying he wants to be in the Super Bowl, but then wanting to go compete in Arena football," Shea said.

The way Shea sees it, a hot dog-eating contest and America's biggest city were made for each other: "New York is a jewel built on the dream of greatness, and that same dream is driving every competitive eater."
Copyright AP - Associated Press