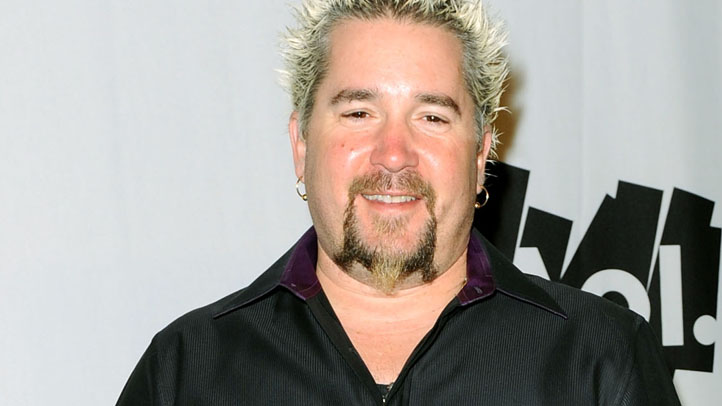 Celebrity chef Guy Fieri shot back at a scathing New York Times restaurant review of his new restaurant in New York's Times Square, saying Thursday he suspects "another agenda" was behind the slam.

Speaking to the "Today" show's Savannah Guthrie at the restaurant, Guy's American Kitchen and Bar, Fieri called the newspaper review that has gone viral "ridiculous." Times food critic Pete Wells went so overboard, the Food Network star said, that it seemed there was another agenda behind the now infamous piece.

"I think we all know what's going on here," Fieri said. "He came in four times to a restaurant that's been open two months. I mean that's tough times, especially this size of a restaurant."
A California native, Fieri launched his first restaurant in Santa Rosa in 1996. He now owns 11 eateries, with seven in the Golden State. Fieri won the Food Network reality program "Next Food Network Star" in 2006, and lauched two programs on the channel that same year, "Guy's Big Bite" and "Diners, Drive-ins and Dives." He is perhaps best-known for the latter, on which he visits greasy spoon spots across the country.
Wells penned the review, published Tuesday, in the form of 34 scathing questions and one sarcastic word at the end: "Thanks." The review took aim at the Awesome Pretzel Chicken Tenders ("Would you ever guess that the shiny tissue of breading that exudes grease onto the plate contains either pretzels or smoked almonds?"), the watermelon margarita ("Any idea why it tastes like some combination of radiator fluid and formaldehyde?") and the nachos ("Why augment tortilla chips with fried lasagna noodles that taste like nothing except oil?"). He also called out sub-par service, complaining about main courses crammed onto the table next to uncleared appetizer plates. The review even also went after Fieri's television persona, questioning whether the celebrity chef's "slangy odes to the unfancy places" are genuine.

Fieri questioned the negativity that permeated the review, saying he thought it was impossible to have every single thing wrong with a dining experience unless there is an agenda and a desire to sensationalize. "It's a great way to make a name for yourself," he said. "Go after a celebrity chef that's not a New Yorker doing a big concept in his second month."

While Fieri admitted that there was room for improvement, he stood by his food and his team. "Do we do it perfect? No," he said. "Are we striving to do it perfect? Yes. That's what we're all doing in the business."

Guthrie asked Fieri how involved he is in the restaurant, noting that many celebrity chefs lend their names to kitchens around the country but are rarely hands-on. Fieri said that he had a hand in the design of the restaurant, wrote the menu and did the training for the front of the house and the back. "I was here painstaking hours," he said. "But this is what you do, if this is what you love. To me that is what this is, this is more heart and soul—not just a name stamp."
U.S. & World
The day's top national and international news.
Visit NBCNews.com for breaking news, world news, and news about the economy