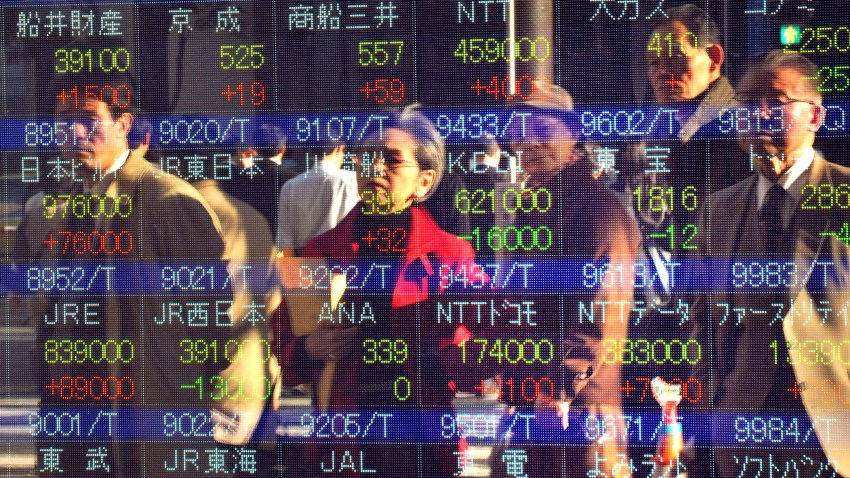 SEOUL, South Korea – Asian markets shrugged off negative economic news to rise Wednesday, underpinned by continued faith in government measures to boost flagging economies as Congress neared a deal to rescue ailing U.S. automakers. European markets were mixed.
Japan's benchmark Nikkei 225 stock average rose 264.37 points, or 3.2 percent, to close at 8,660.24, and Hong Kong's Hang Seng index advanced 824.52 points, or 5.6 percent, to finish at 15,577.74.
Benchmark indexes in Australia, South Korea, India, China and Singapore also rose. New Zealand's market ended down.
U.S. & World
The day's top national and international news.
As European trading opened, Germany's DAX advanced 0.3 percent to 4,792.48 but Britain's FTSE-100 fell 0.6 percent to 4,355.25 and France's CAC-40 declined 0.5 percent to 3,282.01.
Investors in Hong Kong snapped up Chinese stocks as they expected the country's top planners would emerge with additional measures to spur economic growth after a high-level economic planning meeting concluded Wednesday.
"Because of the global economic downturn, China has no choice but to change its policy completely to take a more stimulus-oriented approach," said Francis Lun, general manager of Fulbright Securities Ltd. in Hong Kong.
ICBC, China's largest bank, climbed 5.9 percent and China Construction Bank advanced 5.6 percent. China-based computer firm Lenovo jumped 26.6 percent on news that the world's fourth-biggest PC maker is interested in acquiring a Brazilian counterpart.
Stocks in Tokyo advanced despite data showing that core machinery orders, a key barometer of corporate capital spending, fell 4.4 percent in October, indicating that business investment was retreating sharply amid the global slump.
Investors were focusing more on continued economic rescue efforts by governments, including a tentative agreement on a rescue plan for U.S. automakers, said Kazuhiro Takahashi, equity general manager at Daiwa Securities SMBC, in Tokyo.
Democrat congressional leaders and White House officials agreed in principle Tuesday on a $15 billion bailout of Detroit's "Big Three" automakers that would give the government extraordinary power to restructure the failing industry.
Fears of a possible implosion of the U.S. auto industry have weighed on stock markets in recent weeks as a failure to come up with a support package would strike a further blow to the reeling U.S. labor market.
"Investors welcomed the news of congressional agreement to rescue the Big Three automakers, which came after Wall Street closed," said Daiwa SMBC's Takahashi.
Honda Motor Co. vaulted 10.3 percent, Toyota Motor Corp jumped 6.5 percent and Nissan Motor Co. rose 5.2 percent. In South Korea, Hyundai Motor Co. soared 9.2 percent, while Kia Motors Corp. gained 8.5 percent.
Japanese electronics maker Sony Corp. overcame an initial fall to rise 1.1 percent after announcing Tuesday it will cut 8,000 jobs — 4 percent of its worldwide work force — rein in spending and shutter plants as it tries to ride out a looming worldwide recession that is battering Japan's export-reliant manufacturers.
On Tuesday, the Dow Jones industrial average fell 242.85, or 2.7 percent, to 8,691.33 after logging a total gain of 560 points Friday and Monday.
Wall Street futures pointed to gains in U.S. markets Wednesday with Dow futures up 115 points, or 1.3 percent, at 8,835 and S&P500 futures up 11.9 points, or 1.3 percent, at 901.4.
The Australian stock market bounced back from a slow morning, overcoming the negative lead from Wall Street to close 1 percent higher as resources stocks rallied.
BHP Billiton, the world's largest mining company, jumped 6.7 percent and rival Rio Tinto soared 12.1 percent.
Rio announced after the market closed that it will cut 14,000 jobs worldwide, reduce capital investment and sell assets to try and trim 10 billion Australian dollars ($6.6 billion) from its debt by the end of next year as it copes with waning demand for iron ore and other metals.
Light, sweet crude for January delivery was up 91 cents to $42.98 a barrel in electronic trading on the New York Mercantile Exchange by late afternoon in Singapore. The contract fell overnight $1.64 to settle at $42.07.
Copyright AP - Associated Press