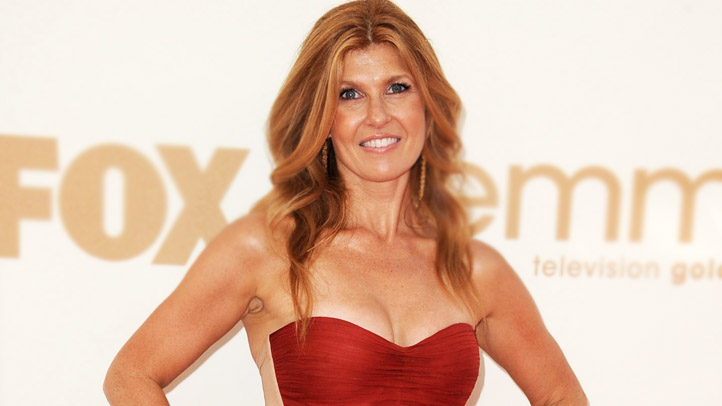 Connie Britton proved she's got perfect pitch as an actress in "Friday Night Lights" and "American Horror Story." Now she's trying to hit all the right notes – literally – in her new series "Nashville," which debuts on Oct. 10 on ABC.

To promote her new role as an established country music diva whose place at the top is threatened by slipping record sales, a fickle record label and a succeed-at-all-costs up-and-comer (Hayden Panetierre), the oft-Emmy nominated actress chats about finding her voice – with a twang.

Are you purposely choosing projects that are completely different every time out?

Yes, that is very much by design. I'm trying to do things that are very different and most specifically feel scary and risky.

Did you have a nice array of diverse offers after last year on "American Horror Story?"

I really did, and honestly, I wasn't really looking at anything because I was also in development with three different shows, and the idea of producing my own thing and creating my own thing is really exciting to me. But when this came along it had so many criteria that I really am looking for as an actor, so it was hard for me to say no. It's very hard, just FYI, to say no to Callie Khouri and the idea of playing a country music star and working with T Bone Burnett – how could I resist that?

What was the biggest fear of this project that turned into a joy?

Well, the biggest fear has been the singing, and when I feel like I sort of pull it off, that's the biggest joy. Also, the biggest joy, one of the biggest joys has been working with T Bone Burnett. He's such a generous, amazing, nurturing person. Honestly, if I ever become a good singer it will be solely because of him… I call him a voice whisperer because he somehow has this amazing capacity to bring out the voice in people that he works with.

Did the producers know that you could sing before they cast you?

When we first had a conversation about it I said, 'Now what about the singing? Would we be doing our own singing?' And they said, 'Well, that would be the ideal. Do you sing?' I said to them – and Callie always reminds me of this – 'Well, nobody has paid me to sing in a very long time.' And as Callie says, 'Well, that means at some point in her life they paid her to sing, so it must be okay.' Little did she know it was during Summer Stock, or whatever.

What do you know about the music business now that you didn't know before?

A lot of things. I think, not unlike Hollywood, the music industry can be very cutthroat, but then the flipside of that is that there's a lot of support in the music industry. Talking to people who I know in the music industry, there's actually a lot of appreciation for women who are in their forties. There's ageism, for sure, but there's also I think a deep regard for people who have established themselves and have really lived a life in music.

A lot of actresses shy away from playing a character struggling in the later stages of a career.

Honestly, when I read the script, I think the whole idea of this rivalry has been a little over developed. I never saw the show in those terms, and I'm going to work really hard to not have the show become about 'old' because I certainly don't feel old and I'm not interested in playing old. So I don't want it to be about old versus young, or about one woman versus another woman. I think what our two characters represent is two people in very different phases of their life and in very different phases of the music business.

Would you be willing to perform live – as, say, promotion for the show?

There would have to be such an enormous level of growth in my self-confidence for that to happen that it would be amazing. So, never say never – but almost never!
"Nashville" airs on ABC on Wednesdays at 10/9 p.m. ET/CT.