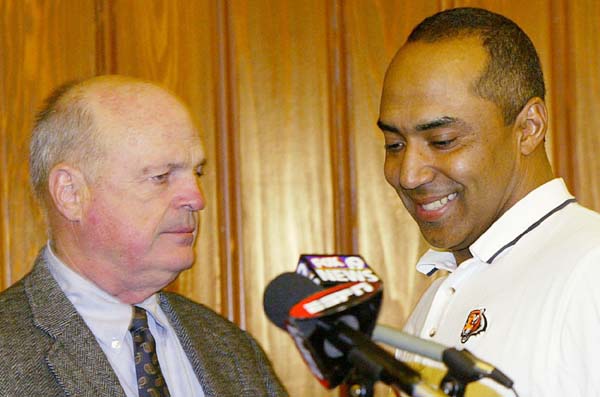 Congratulations, Mike Brown! You did it! With last night's 27-21 loss to Pittsburgh, you became the fastest owner ever to reach 200 losses! YOU ARE A LEGEND, GOOD SIR!
Bill Bidwell of the Arizona Cardinals, Mike's main competitor in futility, took 348 games to reach his 200th loss. Mike will be overseeing the 314th game of his tenure tonite, so unless the Bengals go on roughly a 34-0 run over the next few years he all but has this honor locked up.
Indeed you did have it locked up, Mr. Brown! Your team's penchant for falling way behind early, only to start trying hard when it's too late sealed the deal!

Now, I know it wasn't easy to reach this milestone for you. It takes a certain amount of dedication to lose with such consistency, and to retain awful head coaches because you don't want to eat the remainder of their contract.
U.S. & World
The day's top national and international news.
Bidwill couldn't match you. Dan Snyder couldn't match you. Only YOU had the foresight and vision to be able to drive a franchise into the ground for DECADES, with barely any relief from the constant, unyielding stream of uninspiring losses. Only YOU could drive an entire city to want commit seppuku. Only YOU could somehow stumble into drafting Carson Palmer, only to see his career inexplicably implode! Only YOU have the touch! Let's see Wayne Weaver try and pull something like that off!

Sure, people will condemn you for this milestone. They'll say, "Hey, Mike Brown stinks," or, "Hey, I hope Mike Brown gets eaten by wolves," or "Hey, what if we framed Mike Brown for arson?" But those people are just HATERZZZ. Don't listen to them, Mike. If you had listened to your detractors, you might not have EVER reached this milestone. You might be stuck winning division titles and making the occasional title run. BORING. Let the other teams handle all that dull prosperity. You, good sir, keep doing what you do best. VIVA LA MIKE!